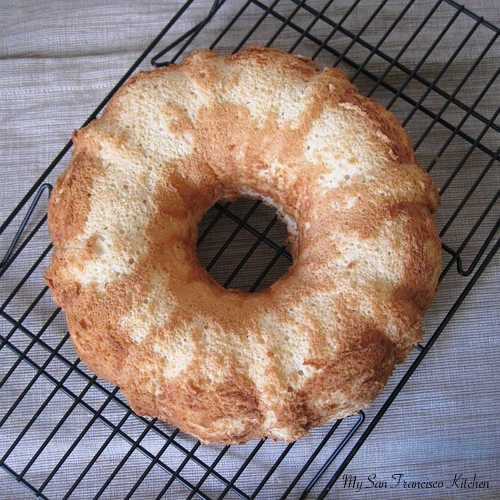 The other night we were invited to a dinner party and I offered to bring a dessert. Ohh the choices! I went back and forth between trying out new cookies [what if they turned out awful?], making cupcakes [too messy to drive & carry while walking?], pie [not enough time during the day], etc. Finally, a light angel food cake with strawberry glaze and whipped cream came to mind. A cake recipe without butter and tons of sweet, fattening frosting is refreshing sometimes. This truly is a perfect dinner party dessert because it is light and very easy and fast to make. It received many compliments =) Enjoy!

Ingredients
1½ cups egg whites (~10 eggs)
1 cup confectioners' sugar
1 cup all-purpose flour
1½ tsp cream of tartar
1½ tsp vanilla extract
¼ tsp salt
1 cup granulated sugar
Instructions
Pour egg whites from carton to measuring cup, and add to mixer bowl (or separate eggs and save yolks for later use). Let stand at room temperature for 30 minutes.
Preheat oven to 350 degrees F.
Blend confectioners' sugar and flour together with a whisk.
Add cream of tartar, vanilla and salt to egg whites and beat on high speed (8 on KitchenAid with flat paddle).
Add sugar a little at a time while beating until sugar is dissolved.
Once stiff peaks form, fold in flour mixture ¼ cup at a time (lowest speed on KitchenAid mixer).
Gently spoon into an ungreased 10-in. bundt cake pan.
Swirl spatula through to remove air pockets.
Bake at 350 degrees F for 40-45 minutes. Cake should spring back when lightly touched with your finger.
Invert pan onto a cooling rack and cool completely before removing cake from pan (about 1 hour).
Use a spatula to gently loosen the cake from the pan if needed.
Serve with strawberry glaze and whipped cream.
This post is sponsored by: