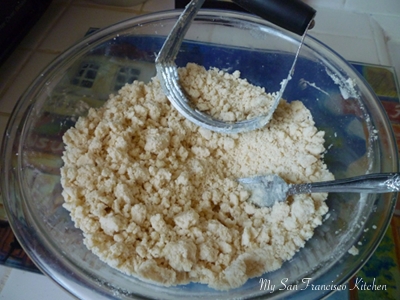 I adapted this recipe from Betty Crocker. The original recipe calls for all shortening, but for a more buttery crust (MMM) I use a little less than half of it as butter. This basic pie crust is great for just about any pie dish! For sweet pies, you can adapt this recipe by adding a little sugar. It is important to pre-bake the dough before filling so that the bottom crust is not soggy. Makes 2 pie crusts.

Ingredients
2 cups all-purpose flour
½ tsp salt
5 tbsp unsalted butter
⅓ cup and 2 tbsp shortening
6 tbsp cold water
Instructions
In a large bowl, mix flour and salt with a fork.
Cut in shortening and butter with a pastry blender or fork until the dough becomes crumbly (pea-sized).
Add 1 tbsp cold water at a time and mix with fork.
Flour hands and gather dough into a ball.
Knead a few times on a lightly floured surface, and flatten.
Wrap with wax paper or plastic wrap and refrigerate for 35 minutes.
Preheat oven to 425 ºF.
Cut chilled dough in half, and roll each half into an 11-inch circle (dough should hang a little over pie dish).
Fold one of the dough halves into fourths and place into bottom of pie dish, pressing firmly.
Trim overhangs to 1 inch, and decorate as desired. This video has wonderful tips: https://www.youtube.com/watch?v=5q99Cvki5to
Line with heavy duty aluminum foil, making sure all of crust is covered to avoid burning of edges.
Bake 10 minutes at 425 ºF, then remove foil and bake 4 minutes longer until golden brown.
Fill with desired filling. if using two crusts, place 2nd half of rolled dough over top and seal with bottom crust before tucking under and decorating edges.
Makes 2 pie crusts