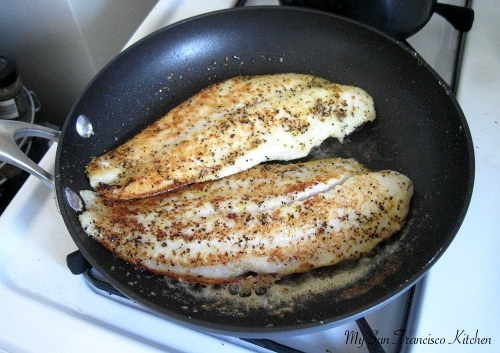 Follow me on Instagram @thecookingrx for more healthy, easy recipes!
Today has been a very lazy Sunday! I have assignments piled up on my desk that I have yet to get to (its already 4:30pm) and I slept in until past 11am this morning (haven't done that in FOREVER!). Remember last week when I said I wanted to try and make something special every Sunday? This is what I made: pan fried lemon pepper Swai fish. I never get tired of it and it comes out crispy and delicious every time. My favorite side dishes are these roasted garlic rosemary potatoes and creamed spinach. This fish recipe is really fast too-once you have defrosted the frozen Swai, it takes less than 10 minutes to prepare them for your gourmet Sunday lunch or dinner.

Ingredients
1 tbsp butter
2 frozen Swai fillets, defrosted
¼ cup all-purpose flour
4 tsp lemon pepper seasoning
1 tsp lemon juice (optional)
Instructions
Wash fish fillets and pat dry with a paper towel. It is important that most of the water is patted out.
Melt 1 tbsp butter in a large skillet (preferably nonstick!) over medium-high heat.
In the meantime, brush flour over both sides of the fish on a plate.
Season one side of each filet with lemon pepper and quickly flip them lemon pepper side down onto the skillet. Work quickly to ensure the butter does not burn, but stays hot enough.
Season the top of the filets with lemon pepper and sprinkle lemon juice over them.
Fry each side about 4 minutes on high heat.
Fish will be opaque when done, and easily flaked with the spatula. The sides should both look golden and crispy.
Makes 2 fillets
This post is sponsored by: