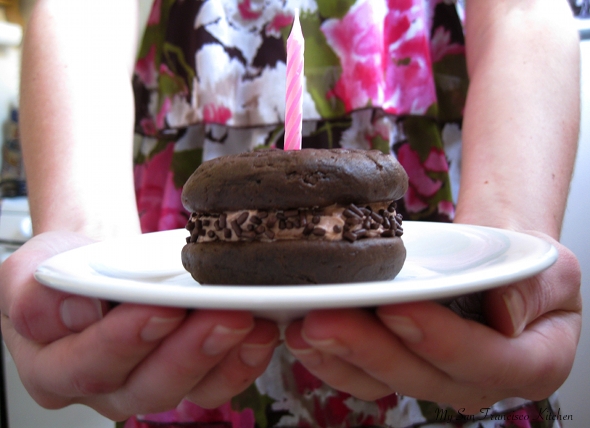 Happy Birthday to me! Today is my 24th birthday, and I got this BEAUTIFUL new pink KitchenAid mixer! I broke that baby in right when it got here…yes I stalked FedEx all day and yes you know you've done it before too! I made these chocolate nutella whoopie pies with it, and they came out DELICIOUS. I give this recipe 5 stars 😉 The Nutella gives the frosting a hazelnut taste to it, which I love. You have to try this!
Ingredients
Cookie
1 cup sugar
½ cup butter, softened
2 eggs
¼ cup vegetable oil
½ tablespoon vanilla extract
3 cups all-purpose flour
1 cup unsweetened cocoa powder
½ teaspoon baking powder
¾ tablespoons baking soda
½ teaspoon salt
1½ cups milk
Filling
8 tbsp shortening
1½ cups confectioners' sugar
¾ cups marshmallow topping
5 tbsp Nutella
Pinch of salt
½ teaspoon vanilla extract
⅓ cup milk
Instructions
Cookie
Preheat oven to 350 ºF.
Beat the sugar, butter, and eggs together until well combined in a standalone mixer.
Add the oil and vanilla and mix until blended.
In a separate bowl, combine all of the dry ingredients.
Add half of the dry mixture and beat until blended.
Add ½ of the milk and beat again.
Add remaining dry mixture and beat.
Add remaining milk and beat until blended.
Scoop batter onto a 2 baking sheets.
Bake for 10 to 12 minutes. Let cool and transfer to a wire cooling rack.
Filling
Add all ingredients to a standalone mixer with whisk attachment.
Whisk on high for 5 minutes until light and fluffy.
Spread filling onto cooled cookies.
Makes 14 whoopie pies.
See this post on
Foodie Friday
,
Wonka Wednesday
and
Homemade Monday
!
What I used to make these:

Amazon is the cheapest I have seen them, and I have done a lot of research!
This post is sponsored by: