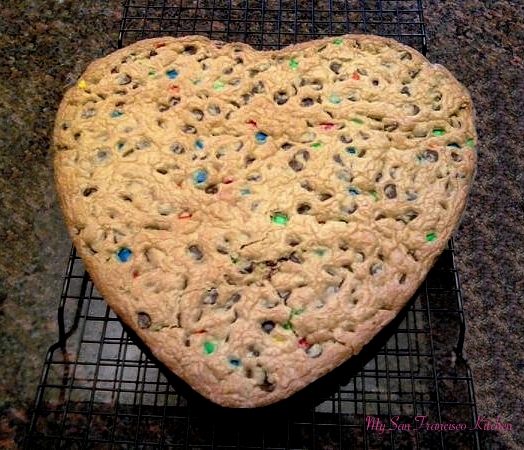 Happy Valentine's Day! Sorry I am so late, I had a super long day at school and then was good and went to the gym. I actually didn't have any time to bake anything for Valentine's Day this year… I know, right?! It is the perfect holiday to bake tons of cute delicious chocolately things

However, my mom made this giant heart cookie for my dad and brother today for Valentine's Day. So cute! I just want to take a huge bite…or put tons of ice cream all over it and make a huge pazooki! This is also a great recipe for anniversaries. No matter if you are single or in a relationship, I hope you all took some time to buy yourself some flowers & chocolate and treat yourself today

Xoxo
Giant M&M Cookie Heart – Happy Valentine's Day!
Ingredients
2¼ cups all-purpose flour
½ tsp salt
1 tsp baking soda
1 cup unsalted butter, softened
1 cup packed brown sugar
½ cup granulated sugar
2 eggs
1½ tsp vanilla extract
2 packages M&Ms
½ cup semisweet chocolate chips (optional)
Instructions
Preheat oven to 350 degrees F.
Whisk together flour, baking soda and salt in a medium bowl and set aside.
Cream butter and sugars with an electric mixer or standalone mixer with paddle attachment.
Add eggs and vanilla.
Add flour mixture a little at a time on low speed until just blended.
Stir in M&Ms and chocolate chips by hand.
Spread dough into a greased heart cake pan.
Bake for 20 minutes or until top is golden brown.
 
Get your own heart-shaped cake pan!

Share and Enjoy