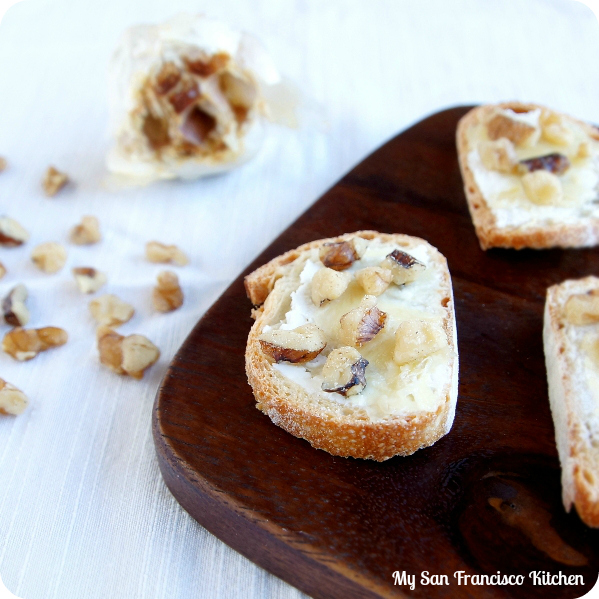 Happy Saturday! This week has been so busy for me, so last night I forced myself to go to the pool and sauna for some "me time" and I am so glad I did. The hardest part was making the effort to go, but afterwards it was so relaxing. What are your plans for the weekend?
This roasted garlic crostini recipe makes an easy, delicious appetizer or snack. Crostini means "little toasts" in Italian, and although you can top them with a variety of ingredients, I like to spread goat cheese on top of them and then the roasted garlic and sprinkle chopped walnuts on top. The inspiration for these came from my favorite restaurant on highway 1 when they served us a thinly sliced baguette with our choice of roasted garlic, goat cheese, salmon, and nuts to top them with. Whenever I make these crostini I have to make a lot because I can't stop eating them! I always forget that just because they are smaller doesn't mean I can eat the whole baguette. 🙂 I just love roasted garlic!

Roasted Garlic Crostini
Ingredients
1 thin baguette, thinly sliced (I used Italian)
1 head of garlic
1 tbsp olive oil
4 tbsp spreadable goat cheese
½ cup chopped walnuts
Instructions
Preheat oven to 400 degrees F.
Chop ¼ inch off of the top (pointy part) of the garlic head, and drizzle olive oil over the garlic, letting it seep in.
Wrap the garlic in aluminum foil and bake for about 30 minutes.
Toast the baguette slices (you can put them in the same oven while the garlic is baking to save energy, or toast them in a toaster oven) until the edges turn golden brown and they are crispy.
Spread the goat cheese over the baguette slices.
Use a butterknife to remove the garlic spread from each clove and spread over the baguette slices.
Top with chopped walnuts and serve warm.
Makes 16 crostini