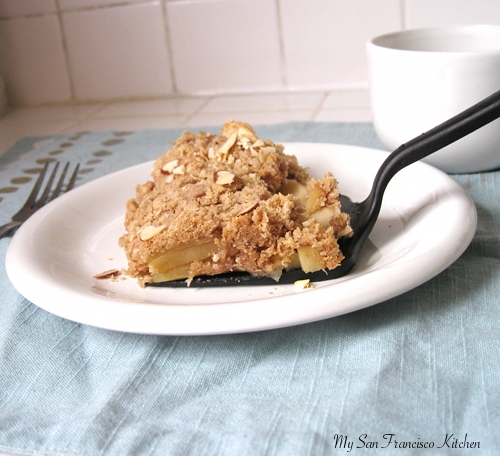 4 large gala apples
⅓ cup butter
½ cup flour
½ cup quick oats
⅓ cup packed brown sugar
1 tsp cinnamon
¾ tsp nutmeg
2 tbsp slice almonds
Wash and peel apples, then set aside.
Preheat oven to 375 degrees F.
Blend sugar, flour, butter, and spices together with a fork or pastry blender until crumbly.
Mix in oats until well blended. Set aside.
Thinly slice apples and layer in an 8x8 glass baking dish.
Top with crumbly crust mixture, and sprinkle sliced almonds over the top.
Bake for 25-30 minutes, or until top is golden brown.
Let cool 5 minutes before serving warm.
Serve with a scoop of vanilla ice cream.