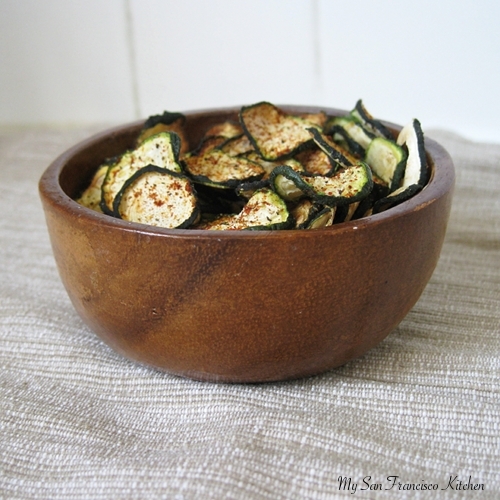 Baked Organic Zucchini Chips
Prep time: 10 mins
Cook time: 90 mins
Total time: 1 hour 40 mins
4 medium organic zucchini
salt
pepper
paprika
cooking spray
Preheat oven to 230 degrees F.
Wash, dry and thinly slice zucchini with a mandoline slicer or knife ⅛ inch thick.
Spread zucchini slices out onto a parchment paper-lined baking sheet.
Spray quickly with cooking spray, and sprinkle desired seasonings on top (be careful not to use too much as stated above in the "tips").
Bake for about 1 and ½ hours, making sure to check on them every 10 minutes after about an hour.
Eat immediately after removing from oven for maximum crunchiness, they tend to get softer as they cool (can reheat).
Makes one small bowl of zucchini chips
Recipe by
My San Francisco Kitchen
at https://www.mysanfranciscokitchen.com/baked-organic-zucchini-chips/