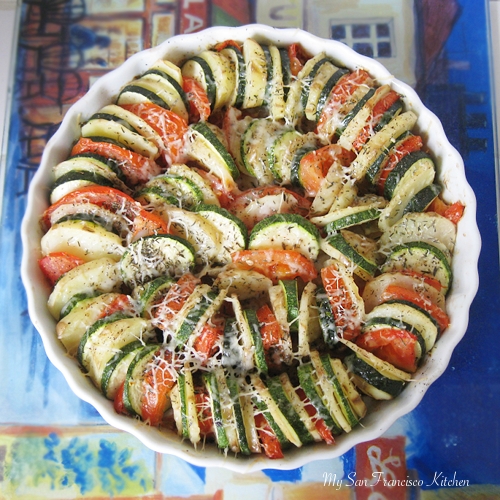 Prep time: 15 mins
Cook time: 1 hour
Total time: 1 hour 15 mins
½ yellow onion, sliced
2 fresh garlic cloves, minced
2 russet potatoes or 4-5 gold potatoes, peeled
2 large zucchini
2 tomatoes
½ tsp salt
½ tsp black pepper
1 tbsp thyme
½ cup fresh Parmesan cheese, grated
Olive oil
Preheat oven to 375 degrees F.
Wash, peel and slice vegetables.
Saute onions and garlic in heated olive oil in a medium skillet for 7 minutes.
Add onions and garlic to the bottom of a pie dish, and layer sliced vegetables around in 3 circles.
Season with salt, pepper, thyme, and drizzle 1-2 tbsp olive oil over the top.
Cover with aluminum foil and bake for 35 minutes.
Sprinkle Parmesan cheese over and bake uncovered for another 30 minutes.
Let cool briefly before serving.
Recipe by
My San Francisco Kitchen
at https://www.mysanfranciscokitchen.com/vegetable-tian/