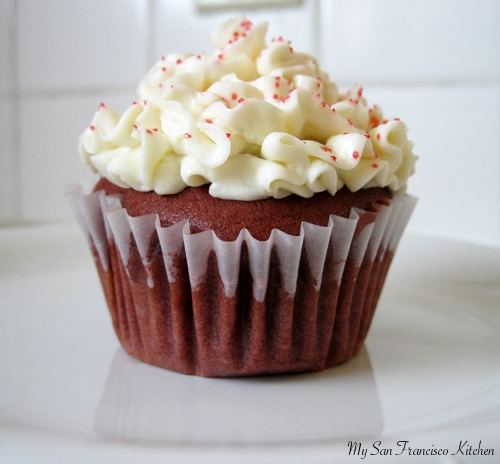 2¼ cups flour
½ cup unsweetened cocoa powder
1 tsp baking soda
¼ tsp salt
1 cup butter, softened
2 cups granulated sugar
4 eggs
1 cup sour cream
½ cup milk
1 (1 ounce) bottle red food color
2 tsp vanilla extract
Preheat oven to 350 degrees F.
Whisk together flour, cocoa powder, baking soda and salt in medium bowl and set aside.
Cream butter and sugar in large bowl with electric mixer on medium speed until light and fluffy.
Beat in eggs, one at a time.
Add sour cream, milk, food color and vanilla and blend on medium.
Add flour mixture a little at a time on low speed until just blended.
Spoon fluffy batter into lined muffin cups, and fill each cup ⅔ full.
Bake 20 to 25 minutes or until toothpick inserted into cupcake comes out clean.
Cool in pan 5 minutes, then transfer to a wire rack and let cool 1 hour.
Frost with cream cheese frosting (recipe above).
Makes 18 cupcakes