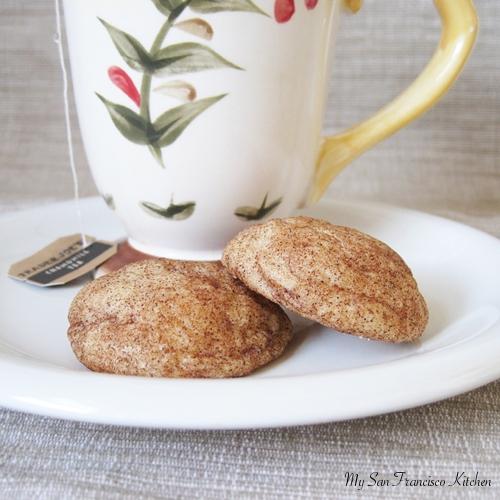 ½ cup unsalted butter, softened
½ cup and 2 tbsp sugar
1 large egg
1½ cups flour
1 tsp cream of tartar
½ tsp baking soda
⅛ tsp salt
1½ tbsp sugar (for rolling)
1½ tsp cinnamon (for rolling)
Preheat oven to 350°F.
Cream together butter and sugar in a standalone mixer with paddle attachment until well blended.
Add egg.
Combine flour, cream of tartar, baking soda and salt in a separate bowl.
Gradually add dry mixture to butter mixture and mix on low speed until just blended.
Chill dough and 2 ungreased cookie sheets for about 10-15 minutes.
Meanwhile, mix the remaining sugar and cinnamon in a small bowl with a fork.
Use a cookie dough scooper or teaspoon to scoop 1 inch balls of dough and roll in cinnamon and sugar mixture.
Coat by gently rolling balls of dough in the sugar mixture.
Place on cookie sheets and bake 10 minutes.
Immediately transfer to a wire cooling rack.
Makes 20 cookies