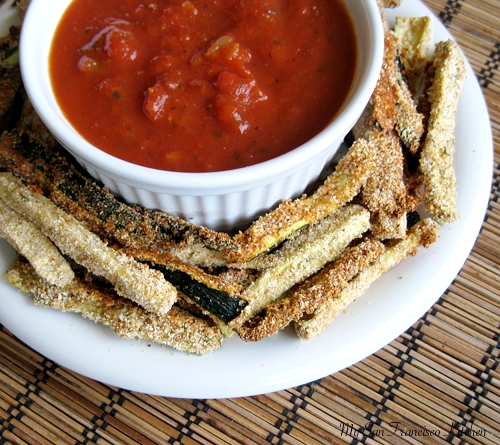 3 organic zucchini, washed
1 cup plain bread crumbs
2 egg whites (can sub for full eggs to avoid waste)
2 tbsp paprika
1 tsp garlic salt
1 tsp onion powder
Salt and pepper to taste
Preheat oven to 400 degrees F.
Slice both ends off of the zucchini, then slice them in half.
Slice into matchsticks and dip into egg whites in a bowl (or beaten egg if using whole eggs).
Add bread crumbs and seasonings to a large ziplock bag.
Add dipped zucchini to bag a handful at a time and shake to coat.
Place one-by-one to a greased baking sheet.
Bake for 20 minutes.
Serve immediately with marinara sauce (they are best when hot out of the oven, yum!).