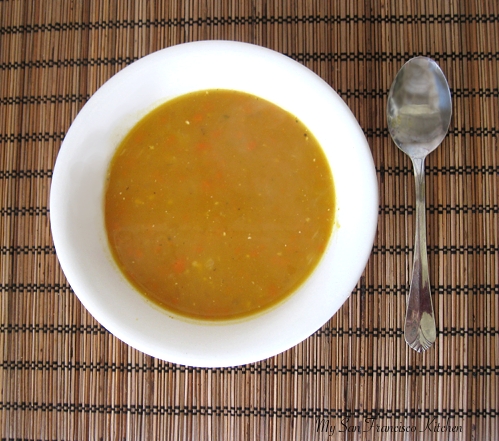 1 can organic pumpkin
1 tbsp butter
1 clove garlic
½ yellow onion, sliced
2 large carrots, peeled and sliced
1 large russet potato, peeled and diced
3½ cups water
1 tbsp chicken bouillon powder
1 tsp sage
½ tsp cayenne pepper
½ cup sour cream
Wash and slice all vegetables.
Melt butter in a 1.5 quart pot over medium heat, and add onion and garlic.
Simmer for 7 minutes, stirring occasionally to avoid browning.
Add pumpkin, carrots and potatoes, then add water and bring to a boil.
Add chicken bouillon and seasonings and cover. Let boil on medium heat for 20-25 minutes.
Remove from heat and allow cool for 5 minutes, then transfer ½ to a blender and pureé. Transfer to a bowl or large measuring cup, then pureé the other ½ of the soup to desired texture (you may want to pulse a few times instead of completely pureeing it to give some texture to the soup).
Add all of the soup back to the pot over medium heat and slow stir in sour cream. Taste and add more seasoning as desired.
Serve warm with croutons or Asian noodles as a topping.