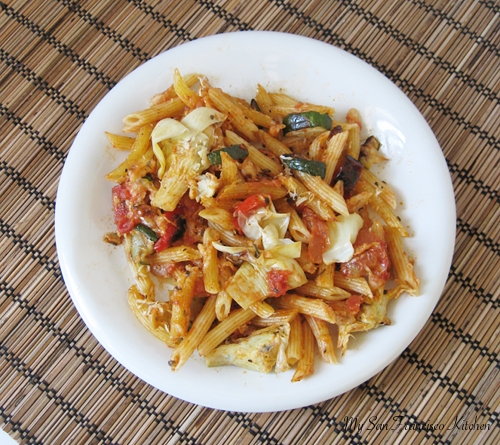 1 red bell peppers, diced
1 zucchini, cut into ¼ quarter pieces
1 tomato, sliced
¼ yellow onion, minced
2 tbsp olive oil
½ tsp black pepper
2 tsp dried Italian herbs
2½ cups penne pasta
1½ cups marinara sauce
½ cup shredded mozzarella cheese
Fresh Parmesan cheese for topping
Preheat oven to 425 degrees F.
Wash and slice all vegetables and toss into a large bowl.
Add olive oil, pepper, and Italian herb seasoning and mix well.
Spread out on a baking sheet and bake for 15 minutes, careful not to burn (can turn over halfway though).
In the meantime, bring a pot of water to boil and boil penne pasta for about 5 minutes and then drain immediately.
Toss roasted vegetables with pasta in the same bowl used earlier, and add mozzarella cheese and marinara sauce and stir well.
Transfer to an 8x8 baking dish and top with freshly grated Parmesan cheese.
Bake for 20-25 minutes at 425 degrees F.