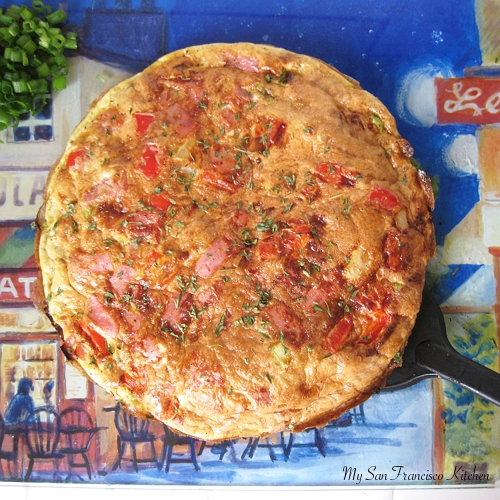 6 eggs
¾ cup grated fresh Parmesan cheese
½ tbsp butter
½ red bell pepper, diced
2 tbsp finely chopped yellow onion
½ cup chopped green onion
1 cup chopped ham
½ tsp pepper
Pinch of salt
Parsley & fresh chives for garnish
Wash and chop all vegetables and ham.
Heat butter over medium high heat in a medium non-stick, oven-proof skillet (I wanted to try my cast iron pan, but was worried it would stick too much!).
Add ham and vegetables and stir occasionally until browned, about 6 minutes.
Beat eggs together with pepper, salt, and Parmesan cheese.
Preheat oven to broil setting.
Add egg mixture to the skillet and stir vegetables and ham to make an even mixture.
Heat over medium heat until the top begins to firm, about 5 minutes.
Transfer to the top rack of the oven and broil about 2 minutes, or until top is slightly browned (watch to make sure the top doesn't burn).
Remove from oven and use a spatula to transfer frittata to a cutting board (should come out very easily).
Use a pizza cutter to cut 6-8 slices, then garnish with chopped fresh chives and parsley.