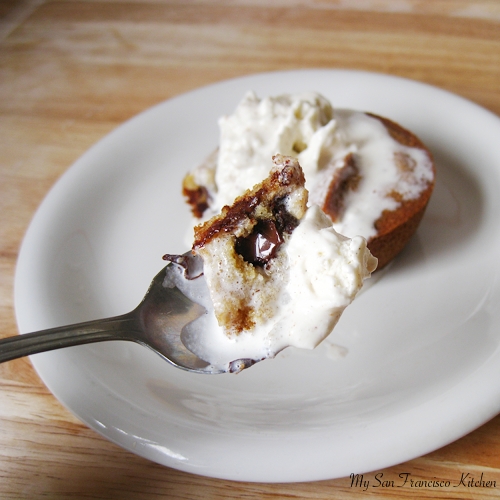 1¼ cups all-purpose flour
¼ tsp salt
½ tsp baking soda
½ cup unsalted butter, softened
½ cup packed brown sugar
¼ cup granulated sugar
1 egg
¾ tsp vanilla extract
1 cup semisweet chocolate chips
Vanilla bean ice cream
In a medium-sized bowl, whisk together flour, salt and baking soda.
Cream together butter and sugars in a standalone mixer fitted with paddle attachment.
Add egg and vanilla and mix on low until blended.
Gradually add flour mixture on low speed until blended, then remove bowl from mixer.
Stir in chocolate chips by hand.
Preheat oven to 350 degrees F.
Spoon cookie dough into a greased large muffin pan or ramekins filled halfway to the top. Press the spoon in the middle to make a slight imprint.
Bake for 20-25 minutes. These are thicker, so you may want to check at 15 and 20 minutes by cutting open the center with a knife (you will hide with ice cream anyway!). Some people prefer them to be slightly under-baked. Don't let them get too hard by leaving them in for too long!
Remove from muffin pan, or serve warm with 1-2 scoops of vanilla bean ice cream on top.