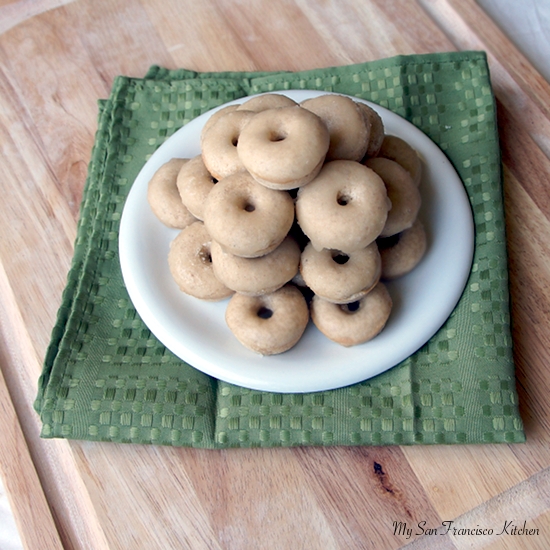 Donuts
1 cup all-purpose flour
½ cup sugar
1 tsp baking powder
Pinch of nutmeg
¼ tsp salt
½ tsp cinnamon
2 large eggs
3 tbsp vegetable oil
2 tbsp plain yogurt
Glaze
2 tbsp butter
¾ cup confectioners' sugar
½ tsp vanilla extract
2-3 tbsp water, as needed
Preheat oven to 375 degrees F.
Whisk together all dry ingredients in a medium bowl.
In a separate bowl, beat the eggs, oil and yogurt well with a fork.
Pour liquid ingredients into the dry ingredients and mix with a teaspoon until combined.
Grease the donut pan and fill each form half full.
Bake for 10 minutes. Check if they are done by touching lightly - they will spring back.
In the meantime, melt butter in a small saucepan and add confectioners' sugar and vanilla. Stir until blended, then add 1 tbsp water at a time until you reach your desired consistency. The glaze will harden if you allow it to cool, so keep stirring occasionally over low heat.
Add more water over heat just before glazing if needed.
Remove from the pan, and cool on a wire rack.
Place a sheet of wax paper under the rack to avoid a mess.
Glaze with icing and set back on rack to set.
Makes 24 donuts