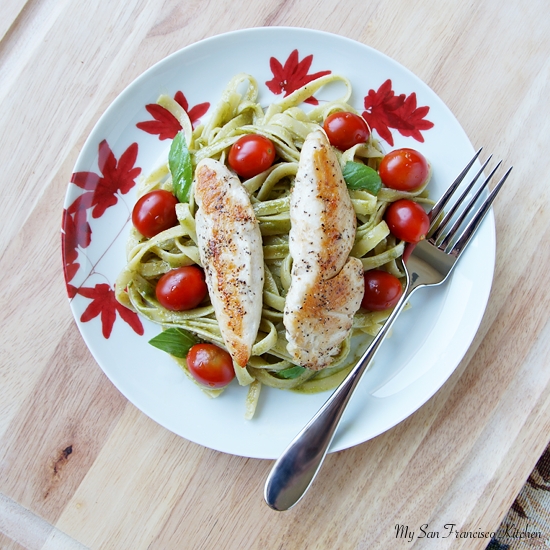 2 organic free-range chicken breasts
½ lb fettuccine noodles
½ cup pesto sauce
10 cherry tomatoes
2 tbsp vegetable oil
Salt and pepper to taste
Fresh basil for garnish
Slice the chicken breasts in half so you have 4 pieces.
Add vegetable oil to a medium skillet and heat over medium-high heat.
Season chicken breasts with salt and pepper and add to skillet. Fry for a few minutes on each side. The chicken breasts will be browned and juices should run clear when fully cooked.
Bring water to boil in a large pot and add fettuccine noodles. Boil for 10 minutes. Add a bit of olive oil to prevent sticking.
Strain noodles and rinse quickly with cold water.
If noodles are sticking, rub your hands with a little olive oil and rub over noodles while pulling them apart.
Toss noodles with pesto sauce, and top with chicken fresh basil and tomatoes.
Makes 2 servings