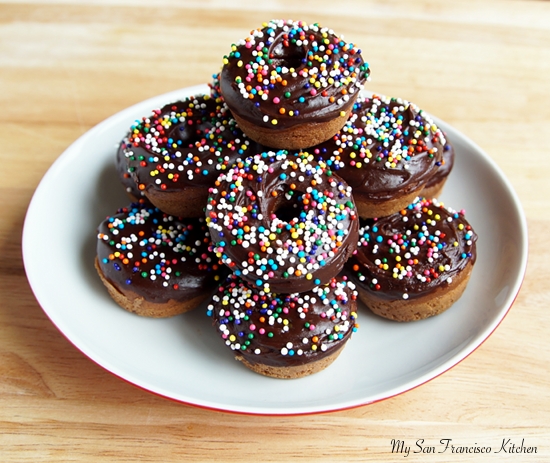 Mini chocolate donuts
¾ cup all-purpose flour
¼ cup unsweetened cocoa powder
⅓ cup granulated sugar
1 tsp baking powder
¼ tsp salt
2 tbsp plain yogurt
¼ cup milk
1 egg
3 tbsp vegetable oil
¼ tsp vanilla extract
Chocolate glaze
2 tbsp unsalted butter
¾ tsp light corn syrup
1 tbsp milk
½ tsp vanilla extract
2 tbsp semisweet chocolate chips
½ cup confectioners' sugar
Sprinkles for decoration
Preheat oven to 375 degrees F.
Whisk dry ingredients together in a mixing bowl.
Add all remaining ingredients and stir very well, until smooth.
Spray mini donut pans with non-stick spray, and fill ¾ full with batter.
Bake for 7 minutes, until donuts spring back when touched lightly with your finger.
Let cool on a wire rack before adding the chocolate glaze and decorating.
TO MAKE THE CHOCOLATE GLAZE: In a small saucepan over low heat, add butter, corn syrup, milk and vanilla. Once butter is melted, add chocolate chips and stir until melted. Add confectioners' sugar and stir until smooth. Glaze donuts immediately, and keep over the lowest heat to keep warm while glazing them. Add sprinkles immediately because the glaze sets very quickly.
Makes 24 mini donuts
Calories: 60
Fat: 1.8g
Sugar: 5g