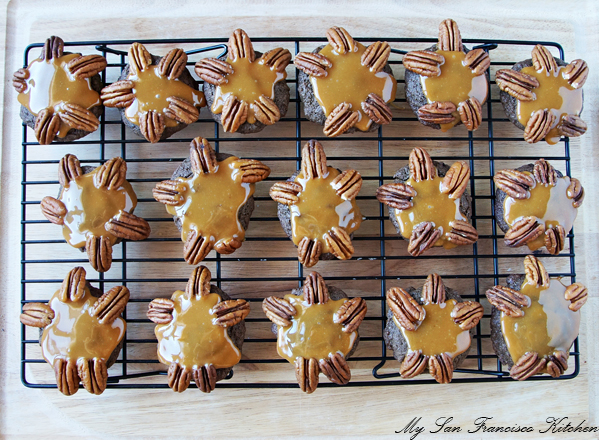 ½ cup unsalted butter (1 stick, room temperature)
½ cup and 2 tbsp white sugar
1 egg
1 tsp vanilla
1 cup all-purpose flour
⅓ cup unsweetened cocoa powder
½ tsp baking soda
Pinch of salt
20 caramel squares
80 pecans
Preheat oven to 350° F (175° C).
In a mixing bowl, beat room temperature butter, sugar, eggs, and vanilla until creamed together.
In a separate bowl, mix flour, cocoa, baking soda, and salt with a fork.
Add flour/cocoa/baking soda/salt mixture a little at a time into butter/sugar/eggs/vanilla mixture by beating at low speed until well blended.
Using a teaspoon or cookie scooper, drop batter onto cookie sheets, leaving an inch around each cookie drop.
Place into oven and bake for 8-10 minutes.
Let cool 2 minutes before transferring to a cooling rack.
Add 2 tbsp water and caramel squares to a small saucepan and melt over low heat, stirring frequently.
Place a sheet of wax paper under the cookie rack to avoid a big mess.
Drop 1 tsp melted caramel over each cookie and place pecans on top for the head, arms and feet. Swirl caramel with a spoon as it cools to keep it from dripping everywhere.
Place in the refrigerator for 30 minutes to allow caramel to set.
Drizzle melted chocolate over each turtle for an extra delicious treat.
Makes 16 cookies