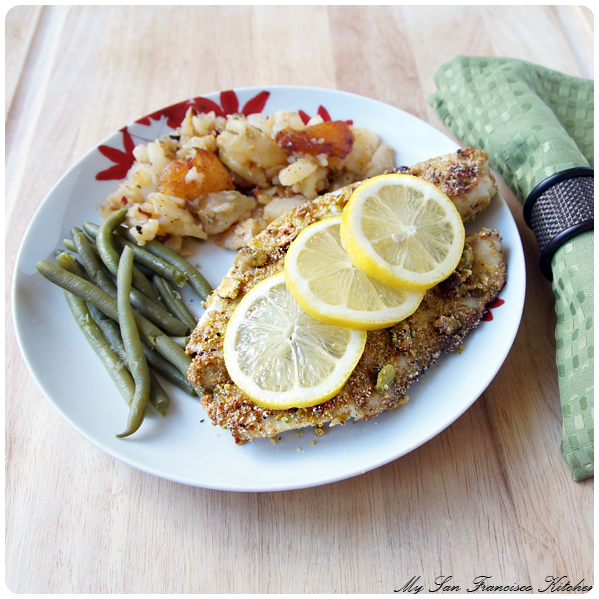 Prep time: 20 mins
Cook time: 25 mins
Total time: 45 mins
3 boneless, skinless tilapia fillets
1 cup milk
½ cup shelled pistachios
¼ cup cornmeal
Salt and pepper
Olive oil
Rinse tilapia fillets and place in a shallow bowl filled with milk. Let stand 10 minutes, then turn over and let stand another 10 minutes.
In the meantime, coarsely grind pistachios in a mini food processor or chopper (you can also chop finely by hand). I used my magic bullet.
Transfer ground up pistachios to a large plat and mix in corn meal with a fork.
Heat a few tablespoons of olive oil over medium high heat (should not be smoking) in a large skillet.
Remove the fillets from the milk one at a time and sprinkle both sides with salt and pepper.
Press each side into the pistachio cornmeal mixture until each side is well coated.
Place into the skillet and fry each side about 4 minutes. Check underneath to make sure the crust is not burning-if it is, turn down the heat!
When done the crust should be golden brown and crispy, and the fillet should be opaque and flake easily.
Slice a fresh lemon and place on top of each fillet.
Makes 3 fillets