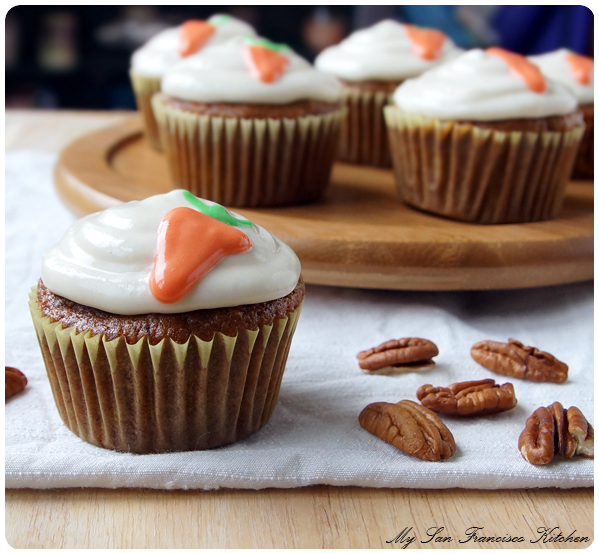 Prep time: 10 mins
Cook time: 25 mins
Total time: 35 mins
½ cup vegetable oil
2 tbsp unsweetened applesauce
½ cup granulated sugar
⅓ cup brown sugar
2 eggs
2 tsp vanilla extract
1 cup all-purpose flour
1 tsp baking soda
1 tsp baking powder
¼ tsp salt
1½ tsp ground cinnamon
1⅓ cups grated carrots (about 4 whole carrots)
½ cup chopped pecans
Preheat oven to 350 degrees F.
Line a cupcake pan with 12 paper cupcake liners.
In a standalone mixer, blend sugar, oil, vanilla, and eggs on low speed.
Add flour, cinnamon, baking soda, baking powder, and salt and blend on medium speed until well blended.
Turn the mixer down to low speed and add carrots and pecans. Mix until blended.
Using a spoon, fill each paper cupcake liner ¾ full.
Bake for 25 minutes, or until toothpick comes out clean after piercing the center.
Remove from oven and let cool 5 minutes, then remove from baking pan and transfer to a wire cooling rack.
Makes 12 cupcakes