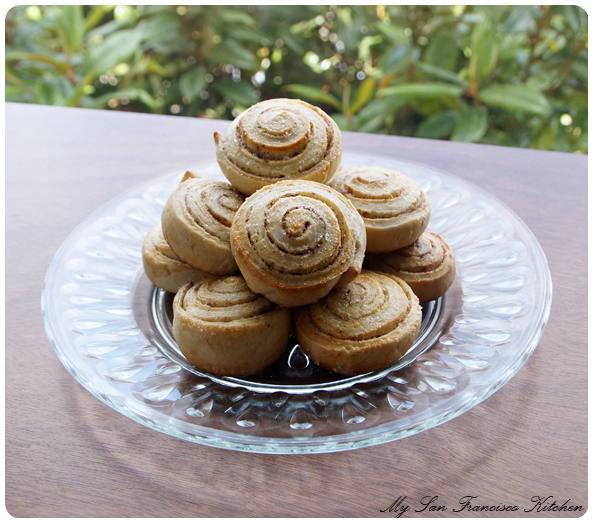 Prep time: 1 hour 45 mins
Cook time: 8 mins
Total time: 1 hour 53 mins
5 tbsp butter + 1 tbsp for brushing
¾ cup milk
⅓ cup sugar + ¼ cup for filling
½ tsp ground cardamom (sub allspice)
¼ tsp salt
1 tsp active dry yeast
1 tbsp cinnamon
2 cups all purpose flour
1 egg and 2 tbsp water for egg wash
Melt butter in a small saucepan over low heat until melted.
Add milk and turn heat to medium. Heat until small bubbles barely start to form, then remove from heat.
Stir in sugar, salt, and cardamom/allspice. Let stand until lukewarm.
Stir in yeast and let stand for 7 minutes to activate the yeast.
Transfer to a standalone mixer with hook attachment (or you can stir and knead by hand if you don't have one) and add 1 cup of flour.
Stir on low speed until flour is blended, then add second cup of flour while mixing.
Continue to knead with dough hook on low speed for 10 minutes. Dough should be stretchy.
Cover with a slightly damp towel and place in a warmed oven or warm place in your house. Let the dough rise until it doubles in size, about 1 hour.
Roll out dough on a floured surface to 8x12 inch rectangle.
Melt 1 tbsp butter and brush all of the butter over the dough.
Mix ¼ cup sugar and 1 tbsp cinnamon together and sprinkle over buttered dough.
Roll dough so that the 18 inch side is horizontal in front of you.
Slice 12 cinnamon rolls off with knife and place in paper baking cups or on parchment paper on a baking sheet.
Cover with a towel and let rise another 45 minutes.
Preheat oven to 425 degrees F.
Beat the egg and water together and brush over the cinnamon rolls.
Sprinkle the tops with more sugar and place in the oven.
Bake for 8 minutes (careful not to over-bake or they will be too dry).
Makes 12 cinnamon rolls
Recipe by
My San Francisco Kitchen
at https://www.mysanfranciscokitchen.com/cinnamon-rolls/