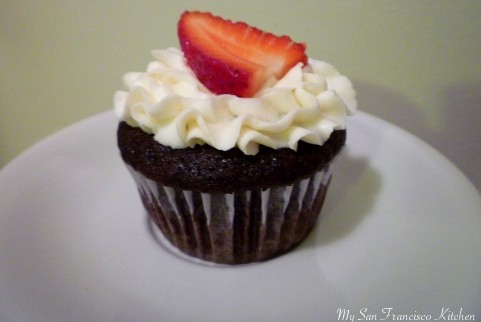 1⅓ cup flour
1 cup sugar
⅓ cup unsweetened cocoa
¾ tsp baking powder
¾ tsp baking soda
½ tsp salt
1 egg
½ cup milk
¼ cup butter, melted
1 tsp vanilla
½ cup boiling water
Preheat oven to 350 ºF.
In a large bowl, add dry ingredients and mix well with a whisk or fork.
Add egg, milk, vanilla, and melted butter and mix together for 2 min on medium speed.
Add ½ cup boiling water and stir with a large spoon.
Line 12 cupcake pan with paper bake cups.
Fill bake cups ⅔ full.
Bake at 350 ºF for 22-25 mins, until toothpick comes out of center of cupcake clean and the centers are no longer sunk in the middle.
Let cool for 30 min before frosting.
Frost with buttercream frosting, or other frosting of your choice, and top with a fresh, sliced strawberry!