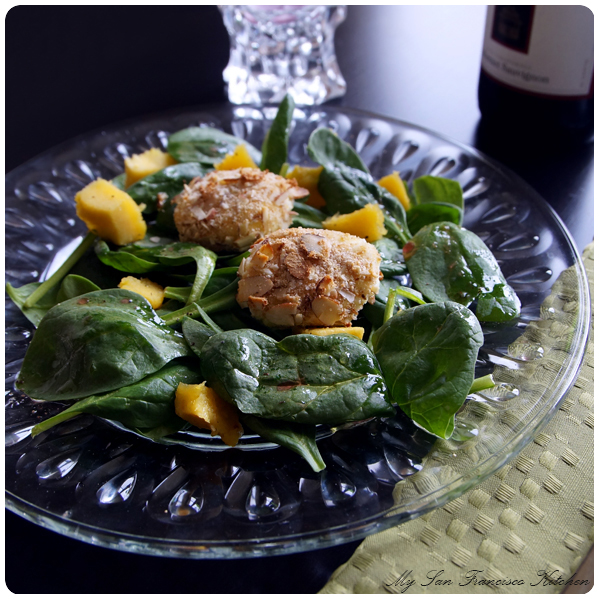 Almond Crusted Goat Cheese Salad
Prep time: 15 mins
Cook time: 50 mins
Total time: 1 hour 5 mins
1 small goat cheese log
1 egg
¼ cup flour
¼ cup slice almonds
¼ cup plain bread crumbs
Salt and pepper
1 sweet dumpling squash
Organic spinach salad
Champagne vinaigrette or dressing of choice
On a plate, mix together sliced almonds, salt, pepper and bread crumbs. Use the bottom of a butterknife to crush the sliced almonds in smaller pieces.
In a small bowl, beat the egg and a tsp of water.
Slice the goat cheese log into small circles. If it falls apart, use your hands to mold into nice circles.
Coat the goat cheese circles in flour, then dip in the egg and coat with the sliced almond mixture, pressing good into the goat cheese so it sticks well.
Place onto a plate and put in the freezer for at least 30 minutes.
In the meantime, slice the dumpling squash in half and remove seeds and pulp.
Pierce the skin with a fork several times, and place cut-side down on a baking tray.
Bake at 350 degrees F for 40 minutes.
Slice into squares and toss with rinsed spinach salad and dressing.
After the goat cheese is done chilling, bake at 400 degrees F for about 5 minutes, keeping an eye on it - once it turns a golden brown or the cheese starts bubbling out a little bit, remove immediately and serve on top of the salad.
Makes 6 crusted goat cheese circles
Recipe by
My San Francisco Kitchen
at https://www.mysanfranciscokitchen.com/almond-crusted-goat-cheese-salad/