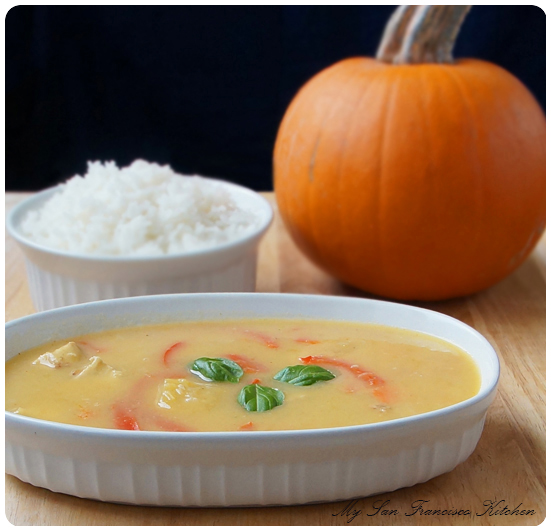 Prep time: 25 mins
Cook time: 40 mins
Total time: 1 hour 5 mins
2 boneless, skinless, organic chicken breasts
2 tbsp vegetable oil, divided
1 onion, chopped
2 cloves garlic, minced
2 carrots, peeled and chopped
1 red bell pepper, sliced
2 cups chicken broth
4 cups freshly chopped pumpkin
1 cup coconut milk
1 tbsp sugar
2 tbsp Thai red curry paste
⅛ tsp cayenne pepper (if you like it very spicy)
Pinch of ground ginger
Fresh basil leaves for garnish
Heat vegetable oil in a large heavy bottom pot over medium heat.
Chop onion and add to pot.
Add minced garlic, then turn heat down to low. Simmer until translucent (about 7 minutes). Stir occasionally.
Skin pumpkin (YouTube a video for the "easiest" way, but be patient…), then slice in half and use an ice cream scooper to remove the pulp and seeds (keep the seeds for later use, yum!).
Chop the pumpkin until you reach 4 cups, then add to the pot.
Add chicken broth, sugar, cayenne pepper, red curry paste and ginger, then stir.
Cover and bring to a boil, then turn down heat the medium and let boil for about 20 minutes (pumpkin should be soft).
Remove from heat and let cool 5 minutes, then transfer half to a blender using a ladle and puree. Pulse the second portion to give it a little more texture.
Return back to the pot and add red bell pepper and carrots.
Stir in coconut milk and let the curry simmer on low heat.
In the meantime, coat 2 chicken breasts in salt, pepper, chili powder, and red cayenne pepper.
Heat 1 tbsp oil in a skillet and add chicken breasts. Cook each side about 2 minutes, until both sides are just browned (the chicken should not be fully cooked).
Cube chicken and add to curry.
Simmer for 15-20 minutes, until chicken is cooked and tender.
Taste the curry and if it needs more of a kick you can add more red cayenne pepper.
Serve over jasmine rice and top with fresh basil leaves.
Makes 4 servings
Recipe by
My San Francisco Kitchen
at https://www.mysanfranciscokitchen.com/pumpkin-curry/