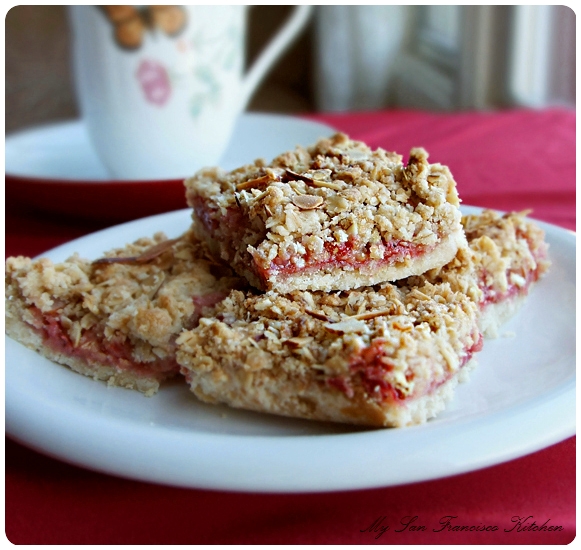 Prep time: 10 mins
Cook time: 55 mins
Total time: 1 hour 5 mins
Crust
6 tbsp unsalted butter, chilled
1 cup all purpose flour
⅓ cup brown sugar
¼ tsp salt
Filling
3½ cups chopped organic strawberries
⅓ cup white sugar
2 tbsp cornstarch
1 lemon
Topping
⅓ cup all-purpose flour
⅔ cup quick oats
¼ cup sliced almonds
½ cup brown sugar
6 tbsp butter, chilled
Preheat oven to 350 degrees F.
Use a pastry blender or food processor to combine crust ingredients until crumbly.
Press into an 8x8 pyrex dish or parchment paper lined baking pan.
Place into the oven and bake about 15 minutes, until slightly browned.
Remove and set aside.
Combine strawberries, sugar and about 3 tbsp lemon juice from the lemon in a bowl.
Zest the lemon for extra lemon flavor over the strawberries.
Add the cornstarch and mix until well blended. Set aside.
For the topping, combine all ingredients listed above with a pastry blender or food processor until crumbly.
Spoon the strawberries over the crust, then top with crumbly topping and sliced almonds.
Bake for 40 minutes, or until the top is a nice golden brown.
Let cool for 30 minutes before cutting into bars.
Makes 12 bars
Recipe by
My San Francisco Kitchen
at https://www.mysanfranciscokitchen.com/strawberry-crumble-bars/