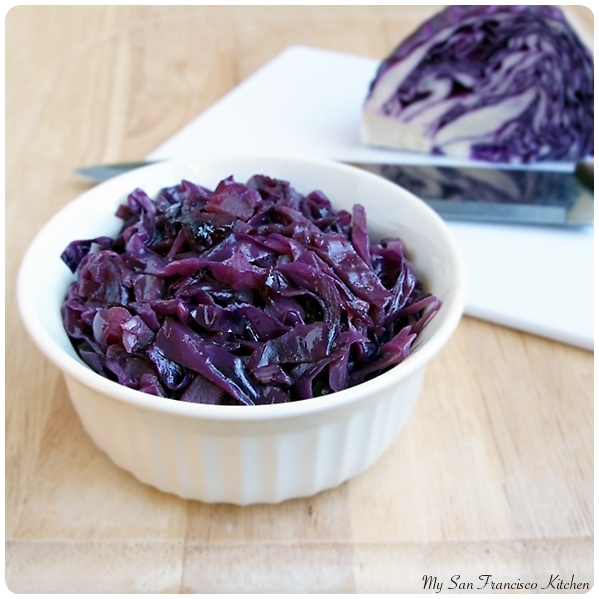 German Rotkohl (Red Cabbage)
Prep time: 15 mins
Cook time: 60 mins
Total time: 1 hour 15 mins
½ of a red cabbage ball
3 tbsp olive oil
1 tbsp sugar
½ medium onion, chopped
2 gala apples, peeled and chopped
4 tbsp red wine vinegar
1 cup red wine
1 tsp all-spice or cloves
3 bay leaves
1 tbsp flour
Pinch of salt
Optional: red currant jam for extra flavor!
Wash the red cabbage and remove the bottom stem.
Cut in half, then into thin strips (see photo).
Add sugar and olive oil to a large pot over medium heat and stir until sugar begins to brown.
Add the onion and apples and sauté for 5 minutes.
Add the red cabbage and stir everything well.
Add the red wine vinegar over the cabbage (to retain the red color).
Add the red wine, salt, all-spice/cloves and bay leaves cover.
Cook on medium heat until the cabbage is tender (about 60 minutes), stirring quickly and replacing the lid every 20 minutes.
Remove the bay leaves and add the flour. Stir well and serve warm. You can add a little red currant jam for extra flavor if desired.
Makes 4 cups
Recipe by
My San Francisco Kitchen
at https://www.mysanfranciscokitchen.com/german-rotkohl-red-cabbage/