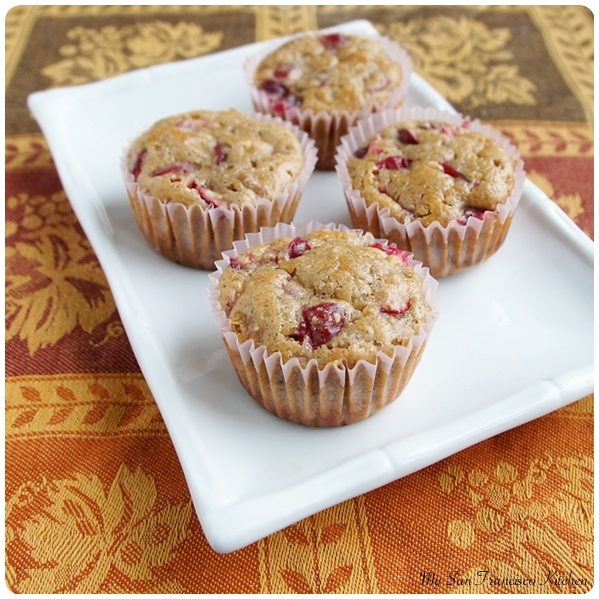 Prep time: 15 mins
Cook time: 20 mins
Total time: 35 mins
1½ cups all-purpose flour
½ tbsp baking powder
¼ tsp baking soda
⅓ cup brown sugar, packed
⅓ cup granulated sugar
¼ tsp salt
1 tsp ground cinnamon
½ tsp ground ginger
⅔ cup whole milk
1 egg
4 tbsp unsalted butter, melted
¼ cup unsweetened apple sauce
¾ cup fresh cranberries, chopped
⅓ cup walnuts, chopped
Whisk together flour, baking powder, baking soda, sugars, salt, and spices in a large mixing bowl.
Add milk, egg, apple sauce, and melted butter and stir with a wooden spoon until well combined.
Stir in walnuts and chopped fresh cranberries until just combined.
Preheat oven to 375 degrees F.
Spoon muffin batter into baking cups lining a muffin pan until they are about ¾ filled.
Bake for 20 minutes, or until a toothpick comes out clean and the tops are turning slightly golden brown.
Cool on a wire rack for 30 minutes before serving (to minimize sticking to the paper liners).
Makes 12 muffins