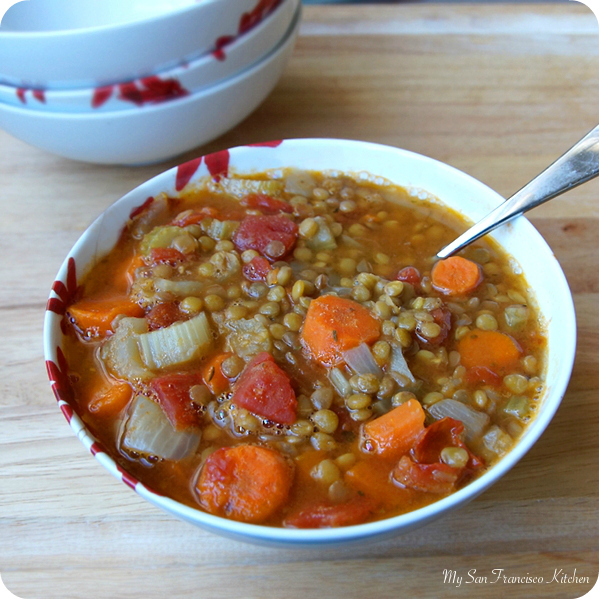 Prep time: 15 mins
Cook time: 90 mins
Total time: 1 hour 45 mins
2 tbsp olive oil
1 white onion, peeled and chopped
2 stalks celery, chopped
1 clove garlic, minced
2 large carrots, peeled and chopped
1 large russet potato, diced
2 large tomatoes, diced
2 cups dry lentil beans
5 cups chicken broth
1 cup water
½ tbsp oregano
1 tsp parsley
½ tsp black pepper (add more to taste)
Pinch crushed red pepper
2 bay leaves
Heat olive oil in a large stock pot over medium heat.
Add onion and celery and simmer over medium-low heat for 7 minutes.
Add minced garlic and stir.
Add lentils, 5 cups chicken broth and 1 cup water and bring to a boil.
Stir in the spices and bay leaves, then cover.
Once boiling turn heat to medium and simmer for 1½ hours, or until lentils are tender.
At the 1 hour mark, add tomatoes, carrots, and potatoes.
Remove bay leaves before serving.
Cool completely before storing in refrigerator or freezer.
Makes 8 cups
Recipe by
My San Francisco Kitchen
at https://www.mysanfranciscokitchen.com/grandmas-lentil-soup/