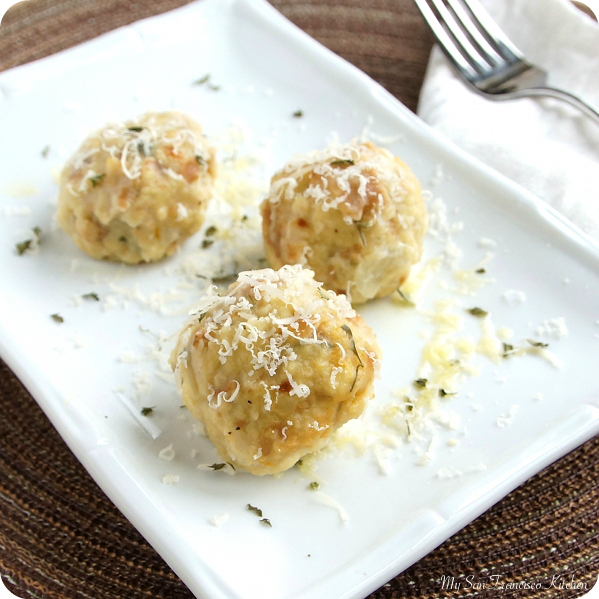 Prep time: 3 hours
Cook time: 15 mins
Total time: 3 hours 15 mins
100g (about 2 cups) chopped day old white bread (French baguette works great!)
⅓ cup milk
1 egg
⅛ tsp salt
⅛ tsp nutmeg
⅛ tsp pepper
2½ tbsp all-purpose flour, plus extra for rolling
1 tbsp parsley
⅓ cup (60g) shredded Gouda cheese
⅓ onion, finely chopped
4 cups vegetable broth
2 cups water
Olive oil
Parmesan cheese for garnish
Chop up a French baguette (or other white bread) until you have 2 cups, then place on a plate and cover with a dish towel overnight (if already stale, do not need to wait overnight).
Beat egg, milk, salt, nutmeg and pepper in a large bowl.
Add chopped-up bread and stir very well.
Cover with dish towel and refrigerate for 2 hours.
Stir in flour, cheese and parsley, then cover and refrigerate for another 30 minutes.
In the meantime, add olive oil to a skillet and heat over medium heat. Simmer the onions for about 8 minutes, until all are translucent.
Add the onions to the bread mixture and stir well.
With your hands, form balls out of the bread mixture to desired size (I like to serve them large) and roll in flour. Set on a plate or parchment paper.
When all are done, roll a second time in flour.
Bring the vegetable broth and water to a boil, then add the dumplings and boil them for 15 minutes.
Use a straining spoon to remove them and shake off the excess water. Set on a plate to cool briefly.
Serve with olive oil, Parmesan cheese, and parsley sprinkled over the top.
Makes 7 large dumplings
Recipe by
My San Francisco Kitchen
at https://www.mysanfranciscokitchen.com/italian-canederli/