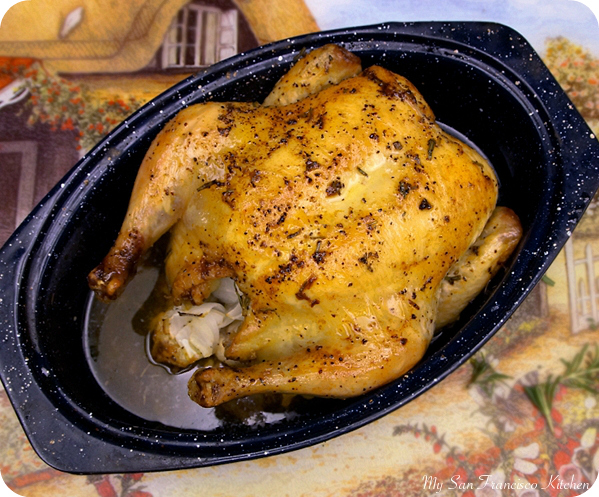 Prep time: 15 mins
Cook time: 2 hours
Total time: 2 hours 15 mins
1 whole organic, free-range chicken
1 tbsp olive oil
4 cloves garlic
¼ cup chopped fresh rosemary
1 onion, quartered
1 tbsp kosher salt
Ground black pepper, to taste
Preheat oven to 350 degrees F.
Rinse the chicken and remove the giblets from the inside of the chicken (if you are lucky, this comes in a neatly packaged bag that you can easily remove).
Rub the chicken with olive oil, 2 cloves of minced garlic and kosher salt all over the outside.
Sprinkle with ground black pepper and 1 tbsp of chopped fresh rosemary. [
Peel and chop the onion into four equal pieces and place inside of the chicken, along with the remaining chopped rosemary and 2 cloves of garlic.
Place the chicken in a roasting dish and bake in the oven for 2 to 2½ hours, until juices run clear and the internal temperature reaches 165 degrees F.
Use a brush to gently brush the chicken with the juices in the roasting pan.
Place the chicken breast-bone side up and cut the wings first.
Next, pull the legs away from the body and cut them off.
Next, remove the breasts and remaining rib meat.
Recipe by
My San Francisco Kitchen
at https://www.mysanfranciscokitchen.com/roasted-rosemary-chicken/