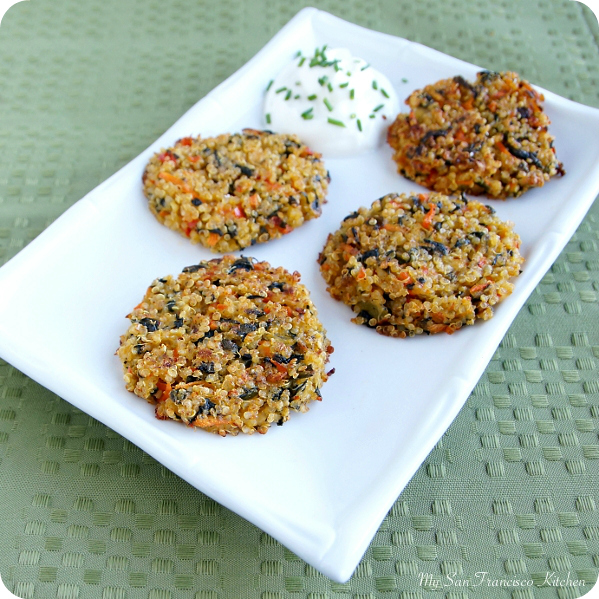 Prep time: 45 mins
Cook time: 10 mins
Total time: 55 mins
2 cups cooked organic white quinoa
½ onion, finely chopped
3 cloves garlic, finely chopped
1 organic red bell pepper, finely chopped
1 large organic carrot, shredded
½ cup chopped organic spinach (fresh or frozen)
2 tbsp olive oil
2 eggs
Salt and pepper to taste
In a food processor, finely chop onion, garlic and red bell pepper.
Heat 2 tbsp olive oil in a large skillet over medium heat.
Add chopped onion, garlic and red bell pepper and sauté for 7 minutes, stirring occasionally.
In the food processor, shred the carrot and transfer to the skillet.
Add the spinach and stir well.
Cook for 5 minutes, stirring occasionally.
Add the quinoa, salt and pepper and stir well and remove from heat.
Allow mixture to cool for 10 minutes.
Beat two eggs in a small bowl and add to the cooled quinoa mixture.
Mix well with a wooden spoon until completely coated in egg.
Preheat oven to 350 degrees F.
In another skillet, heat a small amount of olive oil over medium-high heat.
Use your hands to form a golf-ball sized ball of the quinoa mixture and set onto the skillet. Press down with the back of the wooden spoon to flatten.
Cook for 3 minutes, until the bottom turns golden brown, then flip and brown the other side. This will help keep them together, so don't skip this step!
Repeat until all of the quinoa mixture is used up.
Transfer to a greased baking sheet, placing them 1 inch apart.
Bake for 10-15 minutes.
Serve warm with sour cream or other topping.
Makes 16 small cakes
Calories: 46
Fat: 2g
Fiber: 0.6g
Protein: 0.77g