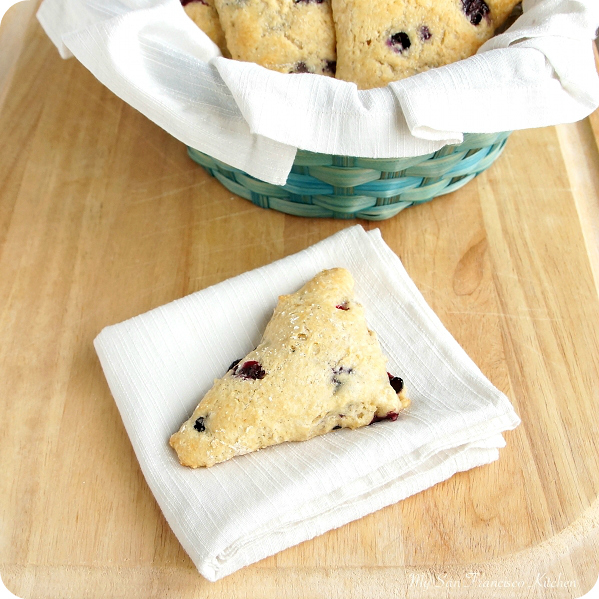 Prep time: 15 mins
Cook time: 20 mins
Total time: 35 mins
½ cup milk
¼ cup sour cream
¼ cup sugar
1 tbsp lemon juice
1 tbsp orange juice
1 tsp vanilla extract
1 large egg
1½ cups all-purpose flour
¼ cup whole wheat flour
1 tbsp baking powder
½ tsp salt
3 tbsp unsalted butter
1 cup fresh organic blueberries
1 large egg white
Granulated sugar for topping
Preheat oven to 375°.
In a medium bowl, whisk together milk, sour cream, lemon juice, orange juice, vanilla extract and egg.
In a separate bowl, combine flour, sugar baking powder, and salt.
Cut in butter with a pastry blender or a fork until crumbly.
Add blueberries and mix with a fork.
Add liquid mixture, and stir until just combined with a fork.
Turn dough out onto a floured surface and pat dough to about ½ inch thick.
Cut dough into 10 triangles and place on a greased baking sheet.
Brush egg white over the scones and sprinkle with sugar.
Bake scones for 18-20 minutes, until golden.
Remove from the oven and sprinkle with more sugar. Serve warm.
Makes 10 scones