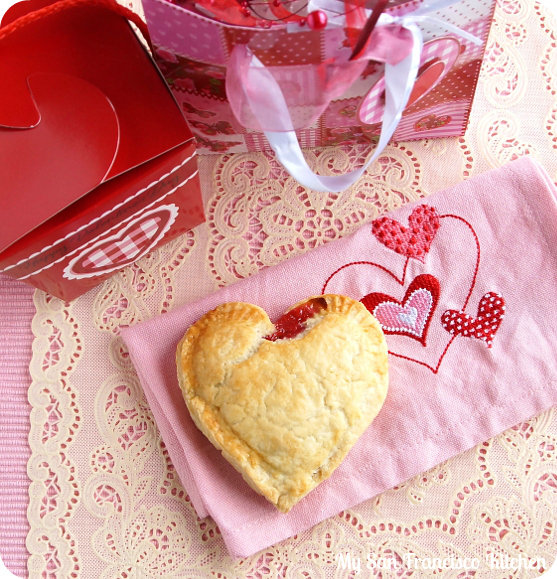 Prep time: 20 mins
Cook time: 18 mins
Total time: 38 mins
2 pie crusts (see above for my recipe, or you can use store-bought)
6 oz organic fresh raspberries
3 tbsp sugar
2 tbsp water
1 tbsp corn starch
Egg whites or beaten egg for brushing
Flour for rolling
Preheat oven to 400 degrees F.
In a small saucepan over low heat, add raspberries and sugar.
Stir in 1 tbsp corn starch into 2 tbsp water until dissolved.
Add cornstarch mixture to the raspberries and bring to a boil. Stir a few times and remove from heat. Raspberries should be soft.
Allow the raspberry mixture to cool. Taste and stir in more sugar if desired.
In the meantime, roll the dough out and cut 2 heart shapes with the back of the mold.
Place one heart on top of each side of the mold, and press down on the filling side.
Spoon a few tablespoons of raspberry sauce into the mold, and close the mold and press firmly.
Transfer to a baking sheet lined with parchment paper.
Repeat until all of the dough is used up.
Brush the tops of the hand pies with either egg white or beaten egg.
Bake the hand pies for 18 minutes, or until golden brown.
Cool before serving.
Makes 6 hand pies