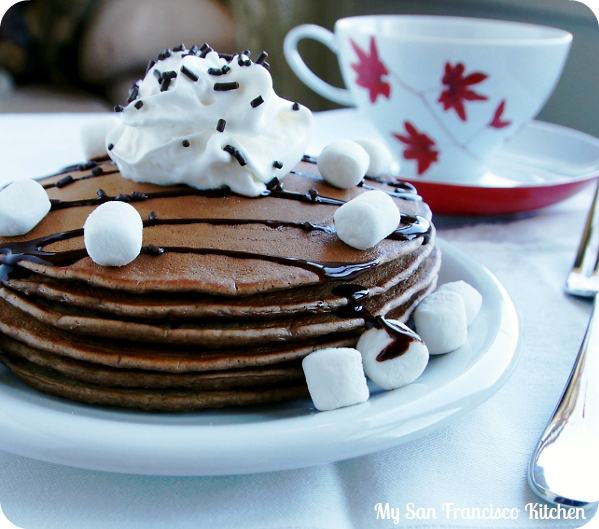 Prep time: 15 mins
Cook time: 20 mins
Total time: 35 mins
1 cup hot cocoa (see recipe link above)
2 tbsp butter
1⅓ cups all-purpose flour
2 tsp baking powder
½ tsp salt
1 tbsp granulated sugar
½ tsp vanilla
1 egg
2-3 tbsp chocolate syrup
½ cup mini marshmallows for topping
Whipped cream for topping
Prepare 1 cup of hot cocoa in a small saucepan over low heat.
Add butter and stir until melted.
Remove from heat and add the vanilla and chocolate syrup. Mix well.
Set aside to cool. Once cooled, add the egg and beat with a whisk.
In a mixing bowl or large Pyrex measuring cup, add flour (sifted is best for decreasing clumps), salt, baking powder and sugar. Whisk together until well combined.
Add the liquid mixture to the dry ingredients and whisk well.
Heat a medium skillet over medium heat and spray with cooking spray.
Pour ¼ cup batter onto the skillet and flip when bubbles pop and stay open.
Repeat until all of the batter is used up.
Stack pancakes onto a place and top with chocolate syrup and whipped cream.
Makes 6 pancakes