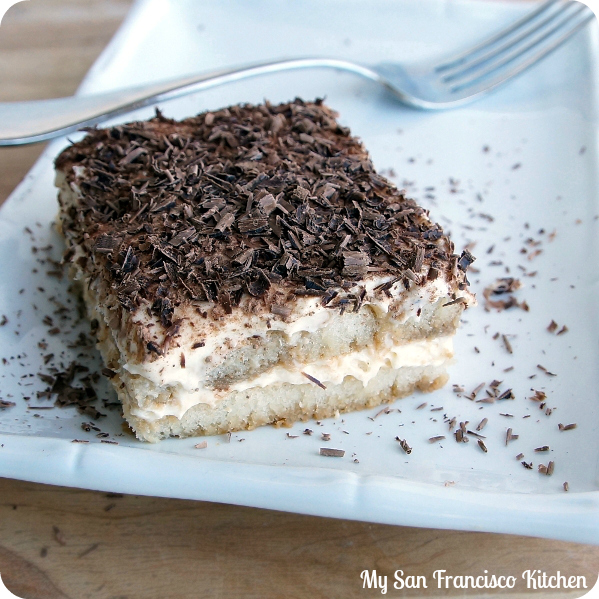 Prep time: 2 hours 30 mins
Total time: 2 hours 30 mins
2 cups espresso or strong coffee, room temperature
2 tbsp Marsala wine or dark rum
2 eggs, separated
Pinch of cream of tarter
¼ cup granulated sugar
250 g mascarpone cheese
½ cup heavy whipping cream, chilled
20 Savoiardi cookies (Ladyfingers) (if thin, may need more)
Unsweetened cocoa powder, for dusting
Dark chocolate for garnish
Add egg yolks and sugar to a large mixing bowl and beat with an electric mixer until fluffy.
Add mascarpone cheese and continue beating until mixed well.
In a standalone mixer or separate mixing bowl, whip the heavy whipping cream until you see stiff peaks (this may take a few minutes).
Gently fold the whipped cream into the mascarpone cheese mixture with a spatula (do not mix!).
Clean the bowl the heavy whipping cream was used in, and add the egg whites and pinch of cream of tarter.
Beat the egg whites with a clean attachment (beaters or large whisk) until peaks form. Make sure there is no trace of dish soap left on the bowl or beaters, or the peaks will not form.
Fold the egg whites into the mascarpone/whipped cream mixture, again gently with a spatula until just combined.
Set in the refrigerator.
Pour coffee and 2 tbsp Marsala wine or rum (if desired) into a bowl and QUICKLY dunk the Ladyfinger cookies one-by-one into the coffee and place side-by-side in a 8x8 baking dish.
Once you have the bottom layer completed, add one half of the filling over the top and spread until even.
Add another layer of dipped Ladyfinger cookies over the filling, and top with the other half of filling. Spread until even.
Cover with plastic wrap and refrigerate for at least 2 hours (overnight is recommended for best flavor!).
Just before serving, garnish by dusting cocoa powder over the top, and shave dark chocolate with a vegetable peeler over the top.
Makes 1 8x8 dish of Tiramisu
Recipe by
My San Francisco Kitchen
at https://www.mysanfranciscokitchen.com/tiramisu/