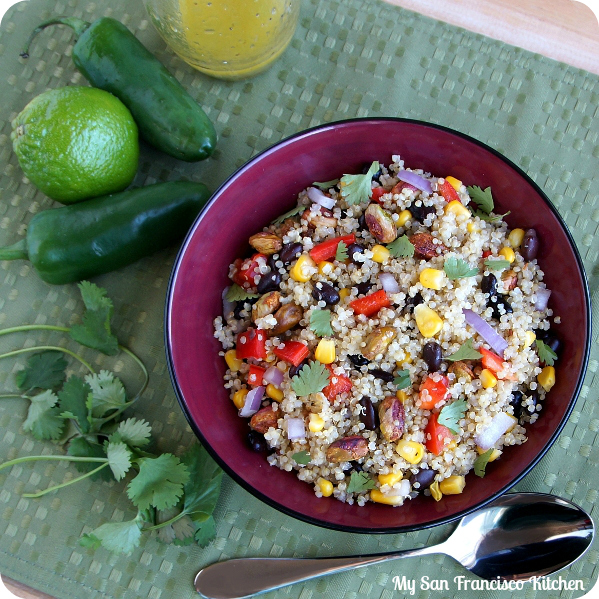 Prep time: 20 mins
Cook time: 25 mins
Total time: 45 mins
1 cup organic white quinoa
2 cups water
1 cup NatureBox chili lime pistachios, shelled www.naturebox.com
1 cup black beans
½ cup chopped red bell pepper
½ cup corn
2 tbsp finely chopped red onion
3 tbsp fresh cilantro
Chili Lime Vinaigrette
¼ cup olive oil
⅓ cup lime juice
½ tsp finely chopped jalepeño
Pinch of salt and pepper, to taste
Bring 2 cups of water to boil in a medium pot.
Add quinoa and cover.
Lower the heat and simmer for about 25 minutes, until all of the water is absorbed.
In the mean time, add olive oil, lime juice, jalapeño, salt and pepper to a salad dressing cruet or small bowl and shake or whisk together well.
Place the dressing in the refrigerator to chill.
Once done, remove the lid and allow quinoa to cool for about 15 minutes.
Add pistachios, black beans, red bell pepper, corn, red onion and cilantro.
Drizzle with chili lime vinaigrette and toss everything together.