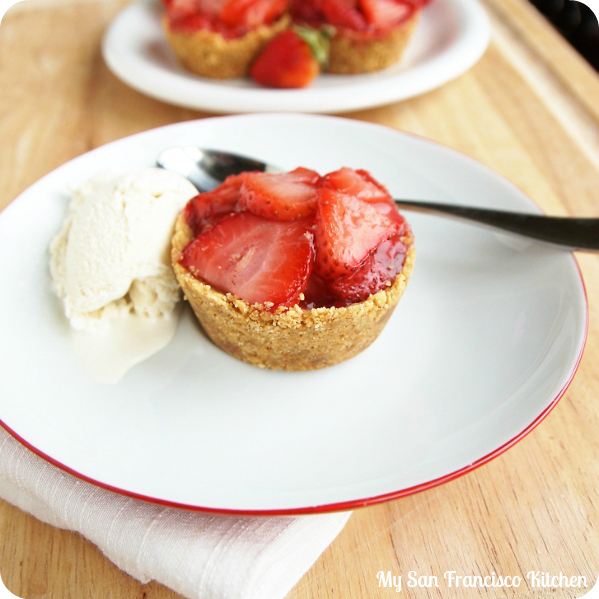 Prep time: 40 mins
Cook time: 20 mins
Total time: 1 hour
1½ cups graham crackers, finely ground
4 tbsp unsalted butter
¼ cup granulated sugar, divided
1½ cups organic strawberries, chopped
⅓ cup water
2 tbsp corn starch
Grind up graham crackers with a food processor and add to a large bowl.
Add the sugar.
Melt butter and add to the bowl.
With a spoon, mix the graham crackers, 2 tbsp granulated sugar and melted butter until evenly mixed and wet.
Use the leftover butter in the bowl to grease 5 muffin pan holes with your fingers. This is important, if they are not greased the pie cups will be stuck after baking.
Use a spoon and evenly divide the graham cracker crust mixture among the 5 muffin pan holes.
Use a glass to press down firmly on each mound of graham cracker crust.
Using a spoon, FIRMLY press along the sides and form a cup inside each muffin pan hole.
Refrigerate for 20 minutes.
Preheat oven to 325 degrees F.
While waiting for the pie crust cups to chill, add water and corn starch to a small sauce pan and stir until the corn starch is fully dissolved.
Add strawberries and remaining 2 tbsp sugar and bring to a boil over medium heat, then turn to low.
Simmer the strawberries for 10 minutes while stirring occasionally, then remove from heat.
Once the pie cups are chilled, bake in the oven for 5 minutes.
Remove from the oven, keeping the oven on, and fill with the strawberry filling.
Place back in the oven and bake for an additional 15 minutes.
Remove from the oven and cool for 15 minutes.
Use a butterknife and carefully turn it around the edge of one pie cup until loosened. Only do this for one.
Use your hand and cup the loosened pie cup over the strawberries and gently flip over to remove the pie cup from the pan, and quickly flip back over again. The corn starch should hold the strawberries of the other cups in place, but some may fall out and that is ok.
Repeat this for each pie cup, one at a time, until all are removed.
Serve warm with vanilla ice cream or alone.
Makes 5 mini pie cups