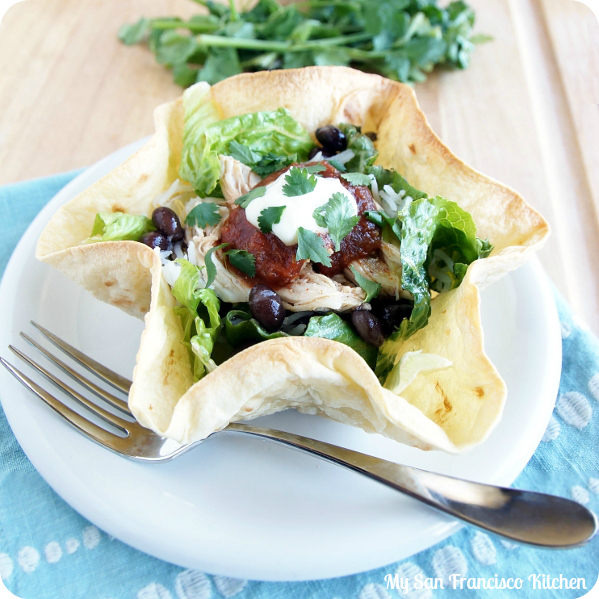 Prep time: 2 hours
Cook time: 2 hours 10 mins
Total time: 4 hours 10 mins
2 boneless, skinless chicken breasts
¾ cup chicken broth
2 cloves garlic, minced
2 tsp cumin
1 tsp chili powder
¼ tsp cayenne pepper (optional)
1 tsp pepper
¼ tsp salt
4 flour tortillas
2 cups romaine lettuce
1 cup black beans
1 cup cooked white rice
Cilantro, salsa, sour cream and guacamole for topping
Add chicken, chicken broth, garlic, cumin, chili powder, cayenne pepper, salt and pepper to a crock pot and turn to "high" for 2 hours.
Turn crockpot down to low.
Preheat oven to 325 degrees F.
Spray tostada pans with non-stick cooking spray and place the tortillas inside, pressing against the mold.
Bake for 5-10 minutes, until tortillas begin to turn golden brown. The longer you leave them in, the more crispy they will be - but careful not to burn!
Remove baked tostada shells from pans and place on a plate.
Shred the chicken using two forks.
Fill the tostada shells with lettuce, chicken, rice and black beans, then top with salsa, cilantro, sour cream and guacamole.
Makes 4 tostadas
Recipe by
My San Francisco Kitchen
at https://www.mysanfranciscokitchen.com/baked-chicken-tostadas/