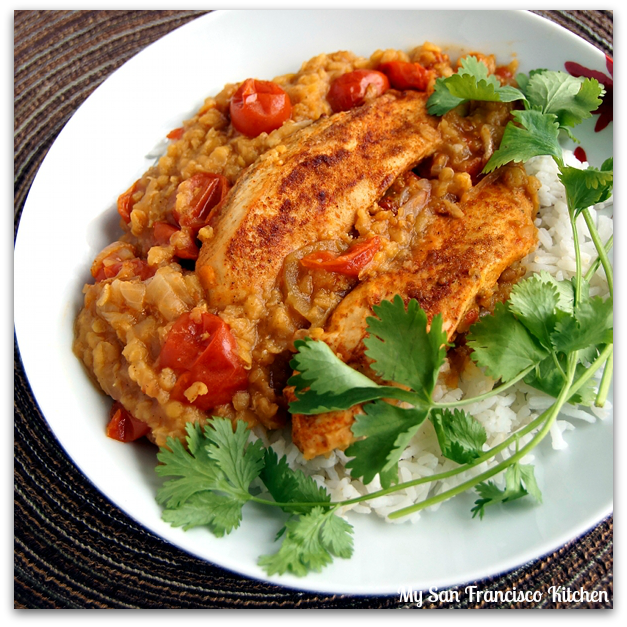 Prep time: 20 mins
Cook time: 1 hour 15 mins
Total time: 1 hour 35 mins
¼ cup olive oil
2 boneless, skinless, organic free-range chicken breasts
3 garlic cloves, minced
1 tbsp ground cumin
¼ tsp cayenne pepper
1 tbsp sweet paprika
½ tbsp cinnamon
½ onion, finely diced
⅓ cup split red lentils
1 cup chopped organic cherry tomatoes
3 cups chicken stock (*4 cups if you want more of a soup)
¼ cup chopped dried apricots or mango
¼ cup freshly chopped cilantro
Preheat oven to 320 degrees F.
Slice each chicken breast in half, yielding four strips.
Coat the chicken in olive oil and cumin, cayenne pepper, and paprika.
Heat 2 tbsp olive oil in an oven-proof baking dish and brown chicken (about 2 minutes on each side).
Remove and set aside.
Add 2 tbsp olive oil to the pan, along with the onions and garlic. Simmer for 5 minutes.
Add cinnamon, lentils, chicken stock, tomatoes and dried apricots and bring to a boil.
Add the chicken breasts on top, cover, and place in the oven.
Bake for 1 hour and 15 minutes.
Serve over jasmine rice and garnish with fresh cilantro.
Recipe by
My San Francisco Kitchen
at https://www.mysanfranciscokitchen.com/red-lentil-chicken-stew/