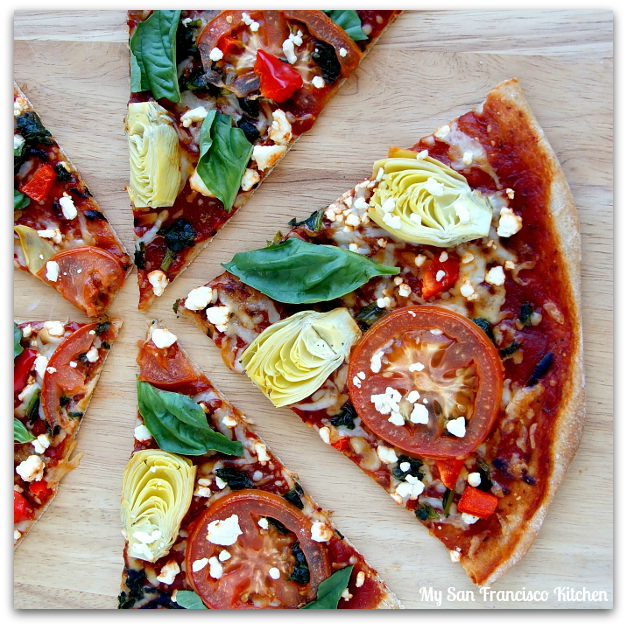 Whole Wheat Vegetarian Pizza
Prep time: 2 hours 30 mins
Cook time: 20 mins
Total time: 2 hours 50 mins
1 package dry yeast (2¼ tsp)
1 cup warm water
1½ cups whole wheat flour
1 cup all-purpose flour
1 tsp salt
1 tsp sugar
4 tbsp olive oil, divided
2 cups pizza sauce
1½ cups low-fat mozzarella cheese
2 cups artichoke hearts, sliced in half
1 cup frozen organic chopped spinach
2 organic tomatoes, thinly sliced
1 organic red bell pepper, chopped
1 cup non-fat feta cheese
1 cup fresh organic basil leaves
Pepper to taste
Add yeast, sugar and warm water to a mixing bowl. Let stand for 7 minutes.
Add salt and whole wheat flour and mix with a wooden spoon or a hook attachment if using a stand mixer.
Add olive oil and remaining flour a little at a time while mixing.
Continue to mix until dough is clearing the sides of the bowl without sticking (add more flour if needed).
Turn onto a floured surface and knead for 10 minutes (or continue mixing with the stand mixer using a hook attachment for 8 minutes).
Place dough in a lightly greased bowl and cover with a dish towel.
Let the dough rise for 1 hour in a warm place, then punch down.
Allow the dough to rise another hour, chopping the vegetables while you are waiting.
Preheat oven to 425 degrees F.
Cut the dough in half and roll one half as thin as you would like your crust to be with a rolling pin on a floured surface.
Transfer the dough to a greased pizza pan, and repeat for the other half of the dough (or save for later in the refrigerator up to 2 days).
Top the dough with ½ tbsp olive oil and spread around the top.
Spread 1 cup of pizza sauce around the dough, and top with cheese and vegetable toppings. Sprinkle with pepper if desired.
Bake each pizza for 15-20 minutes.
Remove from oven and top with fresh basil before serving.
Makes 2 pizzas
Recipe by
My San Francisco Kitchen
at https://www.mysanfranciscokitchen.com/whole-wheat-vegetarian-pizza/