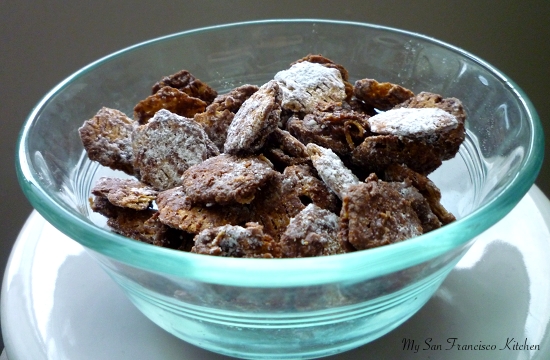 5 cups Barbara's Shredded Spoonfuls Multigrain (or other cereal similar to Chex®)
½ cup semi-sweet chocolate chips
¼ cup chunky peanut butter
2 tbsp butter
½ tsp vanilla
¾ cup powdered sugar
Microwave chocolate, butter and peanut butter for 1 to 2 minutes.
Stir until smooth, and add vanilla.
Pour over cereal in a large bowl and mix carefully for a few minutes until all cereal is coated.
Pour into a gallon sized ziplock bag and add powdered sugar. Shake to coat.
Pour over wax paper and let cool for 1 hour.
Store in an airtight container in the refrigerator.