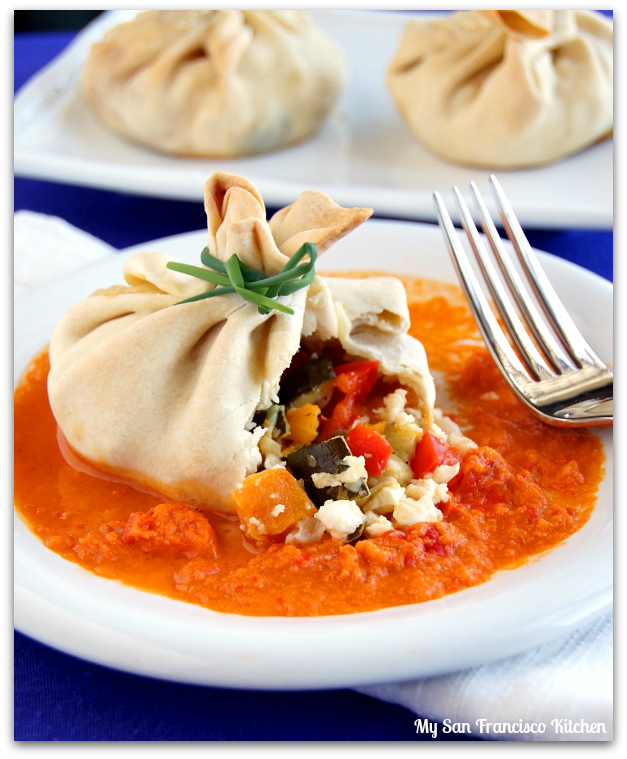 Prep time: 15 mins
Cook time: 1 hour
Total time: 1 hour 15 mins
Phyllo dough
2 cups flour
½ tsp salt
⅔ cups warm water
2 tbsp olive oil
Chives (to tie - optional)
Filling
2 tbsp olive oil
1 large organic zucchini squash, quartered
1 cup cubed butternut squash
1 red bell pepper, chopped
½ cup artichoke hearts, chopped
½ cup light crumbled feta cheese
Salt and pepper to taste
Red pepper sauce
½ red bell pepper
2 tbsp olive oil
1 tsp basalmic vinegar
Salt and pepper to taste
Preheat oven to 375 degrees F.
In a large bowl, add vegetables and olive oil.
Sprinkle with salt and pepper and toss to coat.
Transfer to a greased baking pan and bake for 30 minutes.
Remove from the oven and lower heat to 350 degrees F.
In the meantime, add phyllo dough ingredients to a stand mixer with hook attachment and mix (or mix with a wooden spoon by hand).
Knead for 10 minutes.
Cut into four equal pieces, and roll out as thin a possible.
Divide the filling among the sheets of phyllo dough, placing the filling in the center and then topping with feta cheese.
Gather the four corners of each phyllo sheet and bring together. Press in the center and twist.
Bake for 30 minutes, until slightly golden brown.
Remove from the oven and tie each purse with one chive for decoration.
For the sauce, add all ingredients to a blender and blend to desired consistency.
Makes 4 purses
Recipe by
My San Francisco Kitchen
at https://www.mysanfranciscokitchen.com/vegetable-purses/