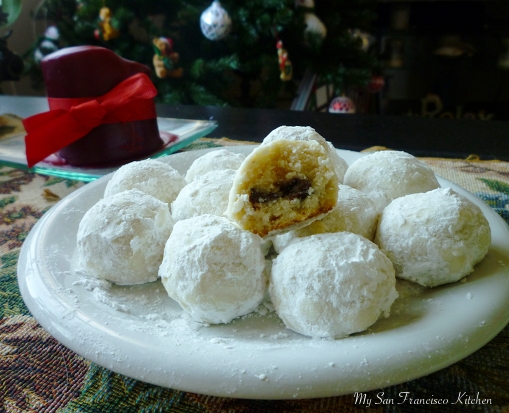 Snowball Surprise Cookies
Prep time: 1 hour 10 mins
Total time: 1 hour 20 mins
½ cup butter
¼ cup powdered sugar
1⅛ cups all-purpose flour
pinch of salt
½ tsp vanilla
1 tbsp heavy whipping cream
¼ cup semisweet chocolate chips
Optional: 1 cup chopped pecans
Extra powdered sugar to roll cookies
Cream together softened butter and powdered sugar in a standalone mixer.
Add vanilla.
Sift flour and salt, and add slowly to mixer.
Once blended, add cream.
Gather in a ball with hands and wrap in wax paper.
Refrigerate for 1 hour.
Preheat oven to 400 ºF.
Once chilled, use a knife to cut small pieces of dough off from the ball (about 1 inch).
Massage with hands, switching from hand to hand and squeezing the dough.
Roll into a ball with hands, and slice in half.
Press 2-4 chocolate chips into each half, and press back together and roll into a ball again.
Place on a cookie sheet.
Bake for 10-12 minutes at 400 ºF.
Remove from oven and immediately roll in a mound of powdered sugar on a plate, and place on another plate to cool for 30 minutes.
Once cooled, roll a second time in powdered sugar.
Makes 12 cookies
Recipe by
My San Francisco Kitchen
at https://www.mysanfranciscokitchen.com/snowball-surprise-cookies/