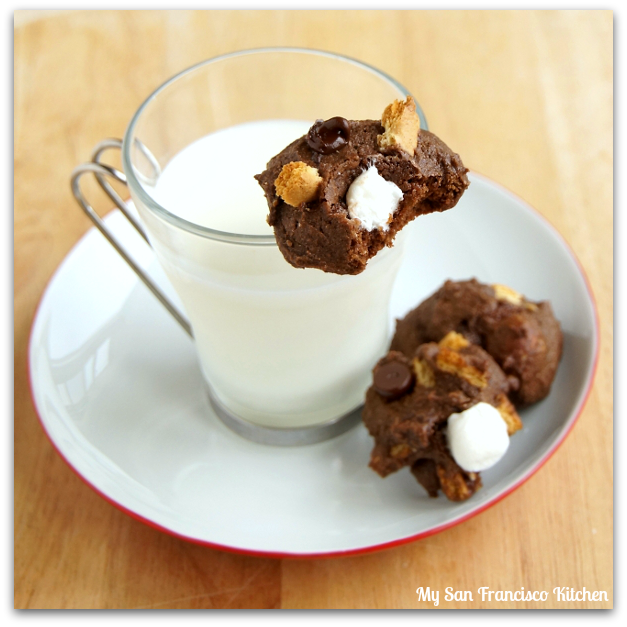 Prep time: 15 mins
Cook time: 8 mins
Total time: 23 mins
½ cup butter (1 stick, room temperature)
½ cup white sugar
1 egg
1 tsp vanilla
1 cup all-purpose flour
⅓ cup unsweetened cocoa powder
¼ tsp baking soda
¼ tsp salt
1 cup semi-sweet chocolate chips
1 cup chopped graham cracker pieces
1 cup miniature marshmallows, divided
Preheat oven to 350° F (175° C).
In a mixing bowl, beat room temperature butter, sugar, eggs, and vanilla until creamed together.
In a separate bowl, mix flour, cocoa, baking soda, and salt with a fork.
Add flour/cocoa/baking soda/salt mixture a little at a time into butter/sugar/eggs/vanilla mixture by beating at low speed until well blended.
Mix in chocolate chips, graham cracker pieces and ½ cup mini marshmallows by hand.
If oven is still preheating, let chill in refrigerator for a few minutes (I find this helps the cookies keep their shape).
Using a teaspoon, drop batter onto cookie sheets, leaving an inch around each cookie drop. You can stick in chocolate chips and graham cracker pieces onto the tops to make them "prettier."
Place into oven and bake for 6 minutes, then quickly press the other ½ cup marshmallows into the tops of the cookies.
Bake for another 2-3 minutes, then remove from the oven.
Let cool 2 minutes before transferring to a cooling rack.
Makes 24 cookies