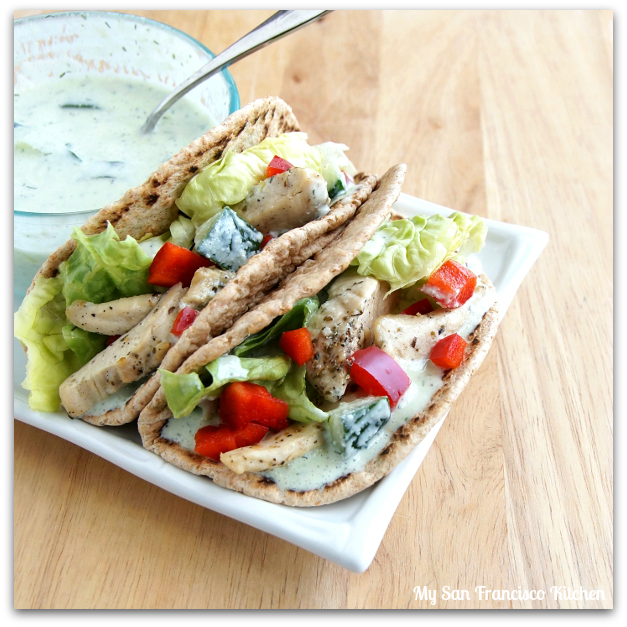 Prep time: 1 hour 20 mins
Cook time: 5 mins
Total time: 1 hour 25 mins
Tzatziki
1 cup Greek yogurt
½ cucumber, quatertered
1 tsp dill weed
1 clove garlic, minced
½ tsp lemon juice
1 tsp red wine vinegar
½ tbsp olive oil
⅛ tsp ground black pepper
Pinch of salt
Chicken Gyros
2 organic, free-range, boneless, skinless chicken breasts
2 tbsp olive oil
3 cloves garlic, minced
1 tbsp lemon juice
1 tsp red wine vinegar
1 tbsp oregano
1 red bell pepper, seeded and chopped
1½ cups chopped iceberg lettuce
4 6-inch whole wheat flat breads
Slice chicken breasts into thin strips,
Add chicken breast strips, olive oil, garlic, lemon juice, vinegar, and oregano to a large plastic bag and shake well. If you do not have a bag, place everything in a large bowl. Refrigerate for 1 hour.
Add all ingredients for tzatziki, except for ¼ cup of the chopped cucumber, to a blender and pulse.
Stir in reserved cucumber.
Cover and chill in a refrigerator until ready to serve.
Preheat oven to broil setting, then add chicken to a broiler pan (if you do not have one, just grease a baking sheet).
Broil the chicken for 3 minutes on each side, then remove from the oven.
Warm flat bread in a toaster oven on the light setting if desired.
Top the flat bread with lettuce, red bell pepper, and chicken strips.
Drizzle with tzatziki just before serving.
Makes 4 gyros
Recipe by
My San Francisco Kitchen
at https://www.mysanfranciscokitchen.com/chicken-gyros/