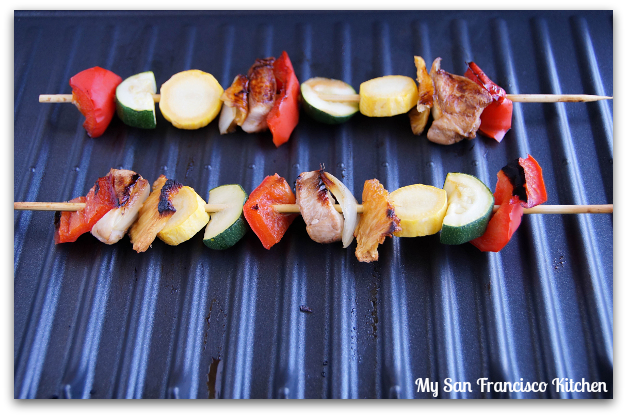 Prep time: 1 hour
Cook time: 6 mins
Total time: 1 hour 6 mins
¼ cup apple cider vinegar
¼ cup soy sauce
2 tablespoons olive oil
2 tablespoons honey
2 boneless, skinless chicken breasts, cubed
1 zucchini squash, chopped
1 yellow squash, chopped
½ yellow onion, chopped
8 NatureBox Big Island Pineapple slices, quartered [www.naturebox.com]
1 red bell pepper, chopped
8 wooden skewers
In a shallow bowl, whisk together apple cider vinegar, soy sauce, olive oil and honey.
Add the cubed chicken breasts and cover with plastic wrap. Refrigerate for at least 30 minutes, up to 3 hours.
Soak the wooden skewers in water for 20 minutes (to prevent them from burning).
After the chicken has marinated, preheat an indoor grill pan over medium heat.
Add the chicken, pineapple, squash, bell pepper and onion to the skewers, alternating.
Grill until the chicken us cooked through, about 3 minutes on each side. The chicken will be done when the juices run clear and the internal temperature is 165 degrees F.
Makes 8 kebabs
Recipe by
My San Francisco Kitchen
at https://www.mysanfranciscokitchen.com/shish-kebabs/