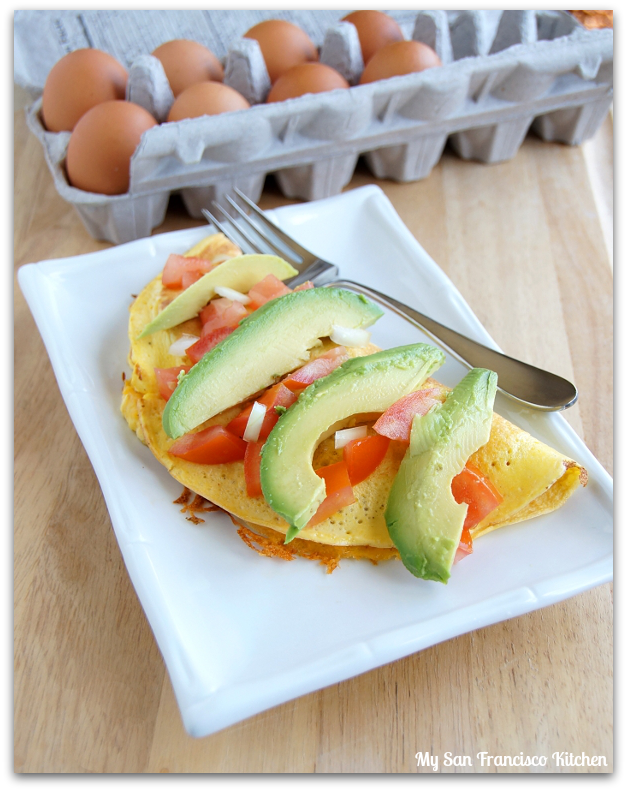 Prep time: 5 mins
Cook time: 20 mins
Total time: 25 mins
4 eggs
¼ cup milk
⅛ tsp salt
1 avocado, pitted and sliced
½ cup diced tomatoes
¼ cup diced onion
½ cup shredded cheddar cheese (can also use Swiss or Jack)
Pepper to taste
Grease a large skillet with cooking spray, butter or oil and heat it over medium heat.
Add eggs, milk and salt to a Magic Bullet cup or blender and blend until you get a homogenous mixture (about 30 seconds).
Dice the tomatoes and onions and slice the avocado, then set aside.
Pour ½ of the egg batter into the skillet and cook for about 5 minutes (turn over a little to peak underneath – it should be firm and slightly browned).
Once ready, flip over (let's see those omelet flipping skills!).
Sprinkle cheese, pepper, tomatoes and onion over the omelet.
Add a few slices of the avocado on top.
After a few minutes of cooking, flip half of the omelet over onto itself and transfer to a plate. Top with extra cheese, tomatoes, onion and avocado slices for a finished look!
Makes 2 omelets