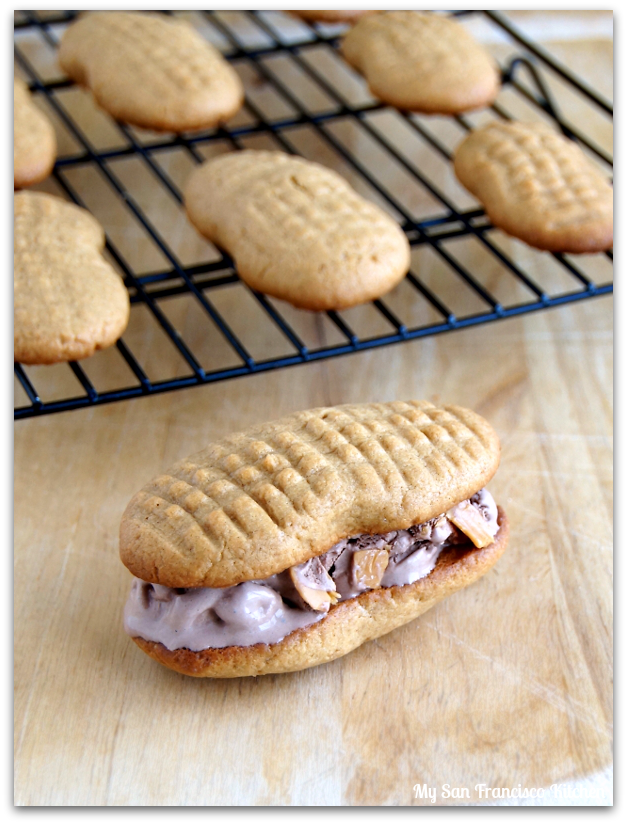 Chocolate Peanut Butter Cookiewich
Prep time: 1 hour 20 mins
Cook time: 12 mins
Total time: 1 hour 32 mins
3 tbsp butter, room temperature
2 tbsp granulated sugar
2 tbsp confectioners' sugar
1 tbsp brown sugar
⅓ cup creamy peanut butter
1 egg
½ cup and 1 tbsp all-purpose flour
½ tsp baking powder
Pinch of salt
Tillamook Chocolate Peanut Butter ice cream
Preheat oven to 375 degrees F.
In a large mixing bowl, add sugars and butter. Cream together on medium speed.
Add the egg and continue beating.
Add flour, baking powder and salt.
Wrap in a plastic wrap and chill in the refrigerator for 1 hour.
Roll 1-inch balls of dough, then form into an flat oval shape.
Use a fork to make impressions vertically and horizontally, then pinch the center to form a peanut shape.
Bake for 12 minutes.
Cool on a wire rack for 30 minutes.
Use two cookies to sandwich ice cream between them.
Makes 8 cookies, or 4 cookiewiches
Recipe by
My San Francisco Kitchen
at https://www.mysanfranciscokitchen.com/chocolate-peanut-butter-cookiewich/